The era of digital card games has brought a surplus of deck-builders to the Market and as great as that may be, finding the best Deck-Building videogames has become more difficult than ever.
Fortunately, this flood of new games over the past decade has caused Deck building games to make unique and innovative decisions, giving us some of a set of games that defy all expectations. The deck-building genre today is full of games with distinct flavors so everybody that dabbles into it can find something of their taste.
Unlike the days of limited card games, Deck builders have taken elements from various other genres to expand the idea of what they can be. These games can be found in the form of anything from competitive games to PvE roguelikes. This list covers games that stuck to the traditional elements of the genre and ones that decided to add elements of others to create a whole new experience for players.
Gwent: The Witcher Card Game
Platforms: Windows, Android, iOS
Released: 2017
Gwent is a fun and complex digital card game built on the lore of The Witcher. Each game takes place over three rounds where two players compete against each other using decks that they crafted beforehand.
This strategy-based deck-building game lets you choose between 6 factions; each with its own playstyle and over a hundred unique cards. The game's ever-changing meta always keeps things fresh as you constantly find yourself messing around with a new deck combination.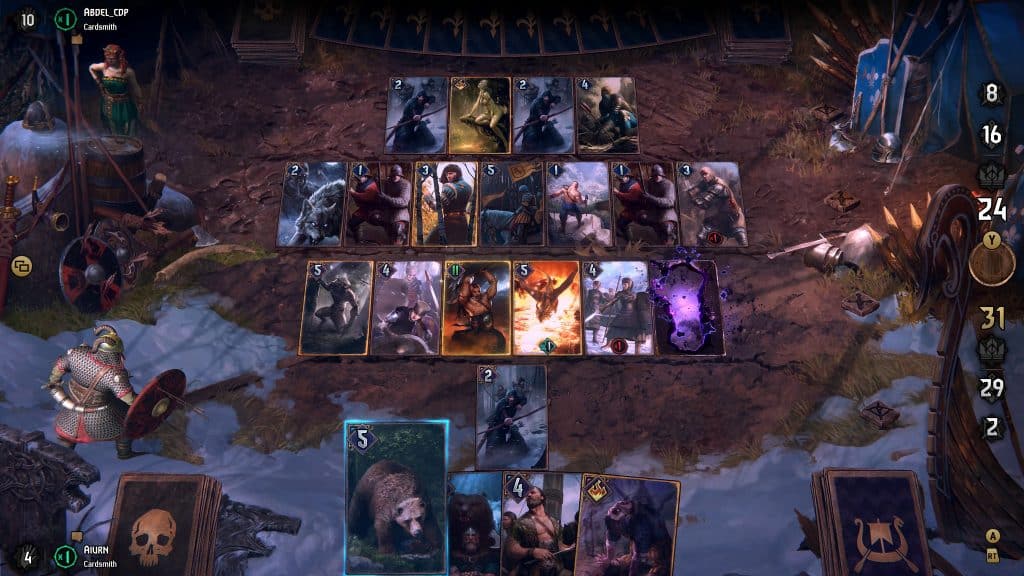 Legends of Runeterra
Platforms: Windows, Android, iOS
Released: 2020
Legends of Runeterra by Riot games is a fast-paced strategy game that is a treat for deck-building enthusiasts; especially if they are old League of Legends fans. Each player goes through turns of attacking each other's side of the board and defending their own until one of them comes out victorious.
The game uses the traditional mana system associated with card costs that you see in a lot of Deck-building games. You can choose to play the units and spells you can afford or save up for better ones. The cards in the deck come with interesting abilities that truly enhance your deck-building experience.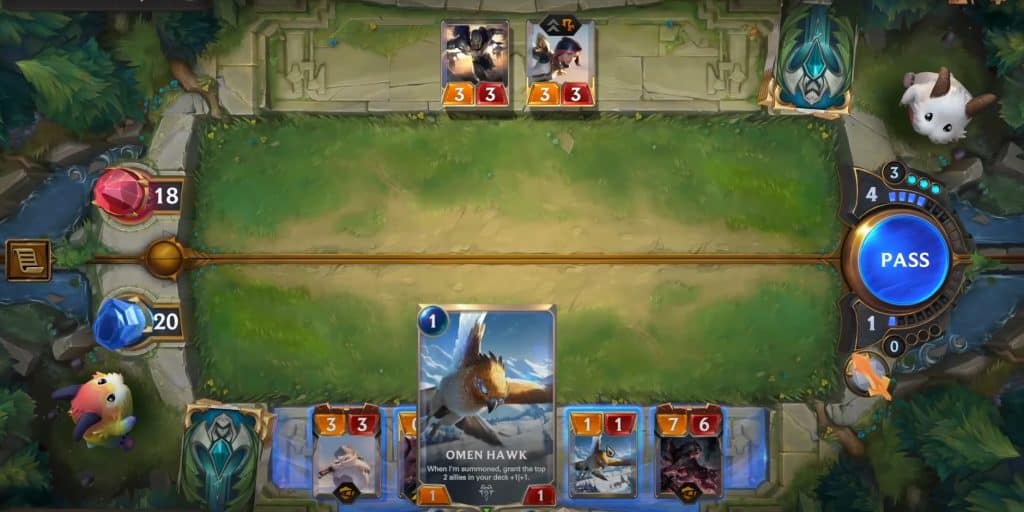 Hearthstone
Platforms: Windows, Mac OS, Android, iOS
Released: 2014
When popular Deck-building mechanics appear in newer card games, they are often seen as an ode to Hearthstone.
Hearthstone is one of the most popular Deck-Building videogames and has been so for a very long time. The game has been out there for long enough to know that its systems work incredibly well. Its success also led to the inclusion of an auto battler game mode called hearthstones battlegrounds.
If you have played almost any auto-battlers before, hearthstone will seem like familiar territory. It uses the famous game mechanics where you choose whether to use your card to either deal with your opponent's card or target their leader.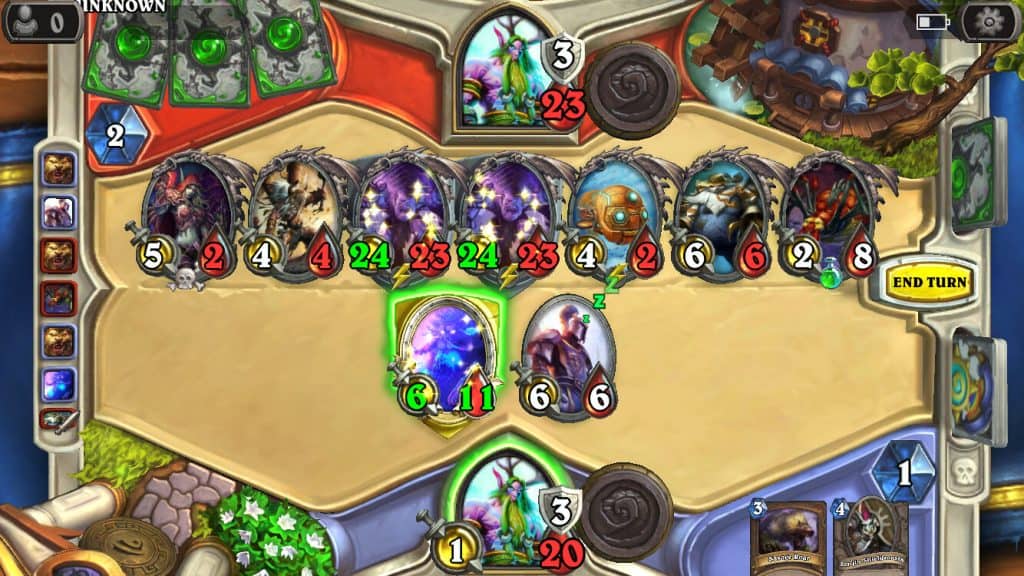 Magic: The Gathering Arena
Platforms: Windows, Mac OS, Android, iOS
Released: 2018
The digital 'Magic: The Gathering Arena' game has a lot more to offer than all the nostalgia that comes with it. It draws inspiration from its offline tabletop version making it very different from most Deck-Builders today.
The game brings a refreshing change of pace to PvP deck-builders. You will find a different version of card game mechanics; one that is more reminiscent of the original Magic: The gathering game rather than regular deck-builders. It also includes a mastery point system that adds an RPG element to it. This can dictate the types of cards you obtain and you more control over your deck-building experience.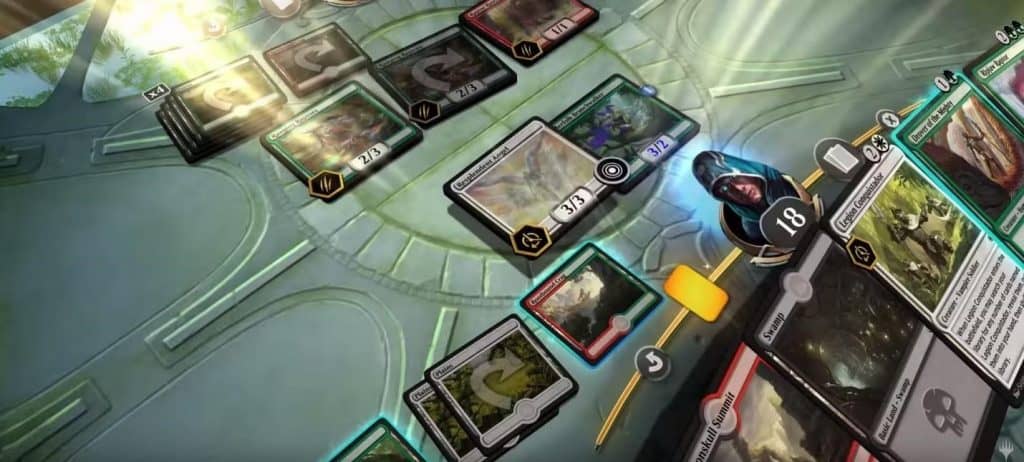 Storybook Brawl
Platforms: Windows
Released: 2021
Storybook Brawl combines the best elements of deck builders and auto battlers to create some truly fascinating game play. It puts you up against 7 other players and lets you face each one individually using well-known characters until you either win or get knocked out.
The game may feel a little overwhelming at first but taking the time to understand its mechanics can feel incredibly rewarding. Players that are used to deck-building auto battlers such as Hearthstone battlegrounds will have a much easier time with Storybook Brawl.
The game is still in its early access phase as of the publishing of this article; however, it is still packed with enough to keep you hooked for a while.
Read our full guide on Storybook Brawl Tier List.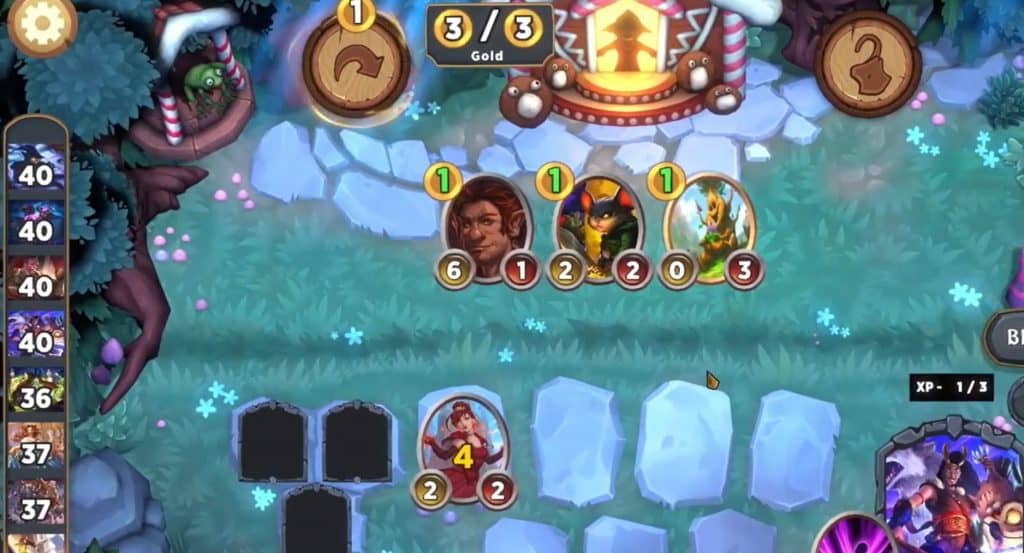 Slay the spire
Platforms: Windows, Android, iOS, PlayStation 4, macOS, Xbox One, Nintendo Switch
Released: 2017
Slay the spire could easily be a contender for the best deck-building game; evident by how many roguelike deck builders are compared to it. Each run through a path you pick feels different from your previous one as you pick up unique combinations of cards along the way.
The game takes all the ingredients of a solid roguelike adventure and adds a layer of deck-building to them. Each level pits you against an enemy that will require a new strategy. Fortunately, testing them out will always be a good time.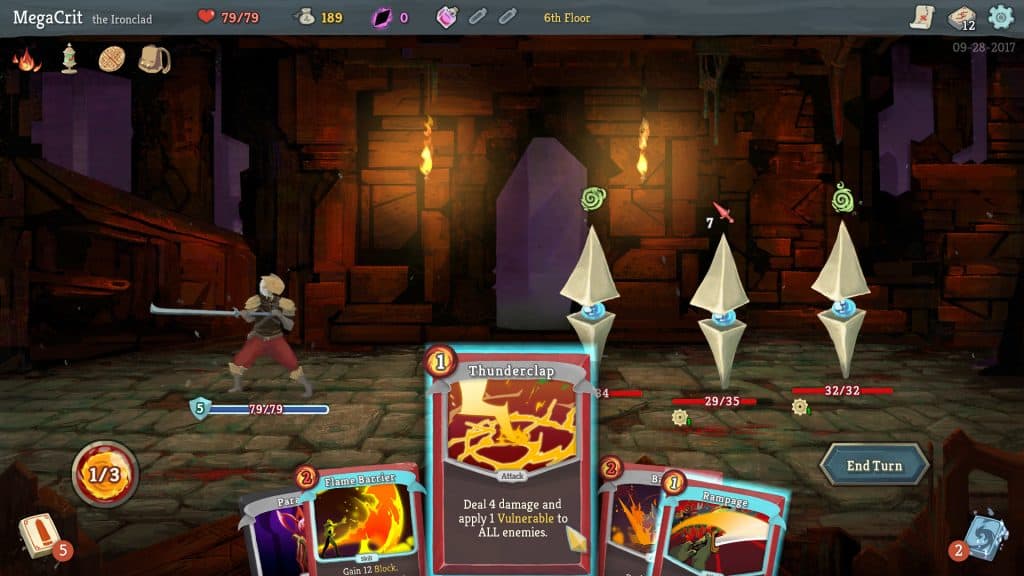 Griftlands
Platforms: Windows, Linux, macOS, Nintendo Switch, Xbox One, PlayStation 4
Released: 2019
Griftlands takes the Deck-building Genre in a whole new direction with its approach. Instead of going through a series of consecutive battles like you would in most roguelite games, this one offers you the ability to negotiate your way through situations. The game manages seamlessly integrate both; the fighting and negotiations through the core mechanics of Deck Building games.
You can choose between 3 characters for your playthrough. Each of them will provide you with a unique campaign experience through their own Decks, abilities, and environments. This leads Griftlands to succeed as a Roguelite deck builder due to its massive amount of potential replayability.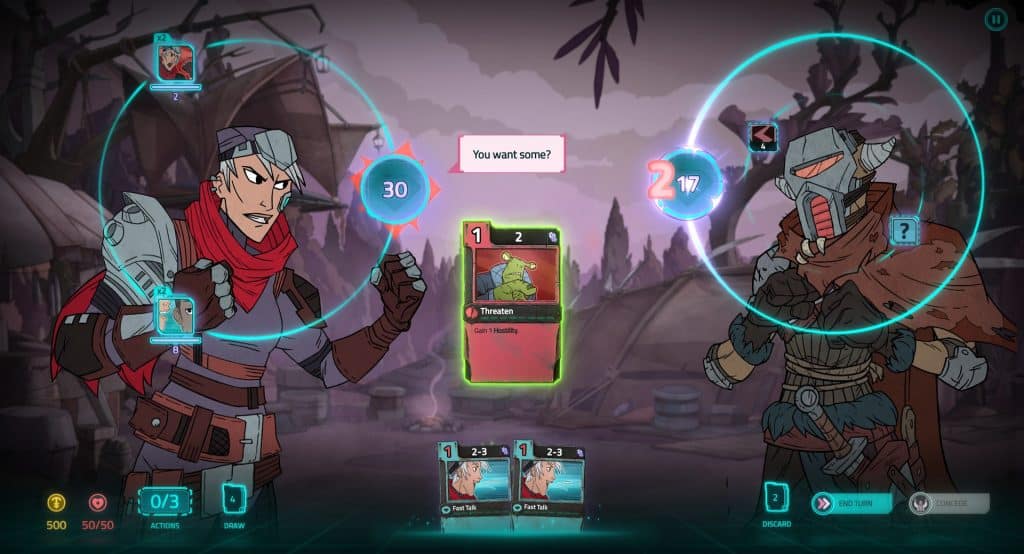 Fights in tight spaces
Platforms: Xbox Series X and Series S, Xbox One, Windows
Released: 2020
Playing every card in a deck-builder rarely feels as cool as it does in 'Fights in Tight Spaces'. As the name suggests, the game simulates a fighting sequence in a relatively small area through the use of cards.
Each card that you play is tied to an action. Some cards require momentum while some can be used to build it. The game progresses as you align unique combinations of cards while anticipating your opponent's moves and finding ways to counter them.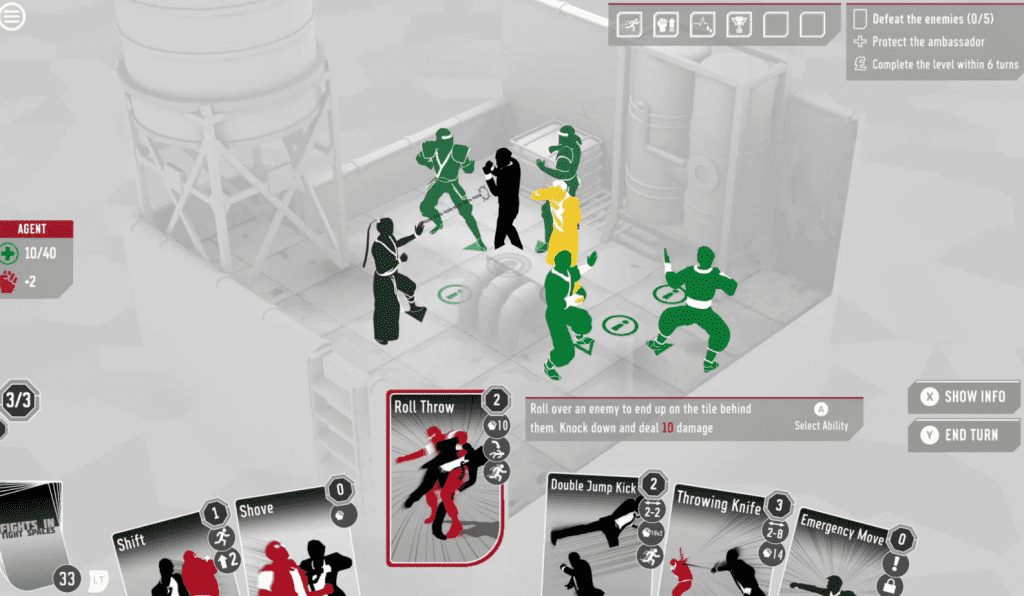 One Step from Eden
Platforms: PlayStation 4, Windows, Linux, macOS, Nintendo Switch, Xbox One
Released: 2020
One Step from Eden combines deck-building with action roguelikes to create an intriguing game for anybody that likes a challenge. This game starts fairly easy but slowly reveals its steep learning curve.
While it may not be for everyone, One Step from Eden can turn out to be very enjoyable for hardcore roguelike players that like a difficult game.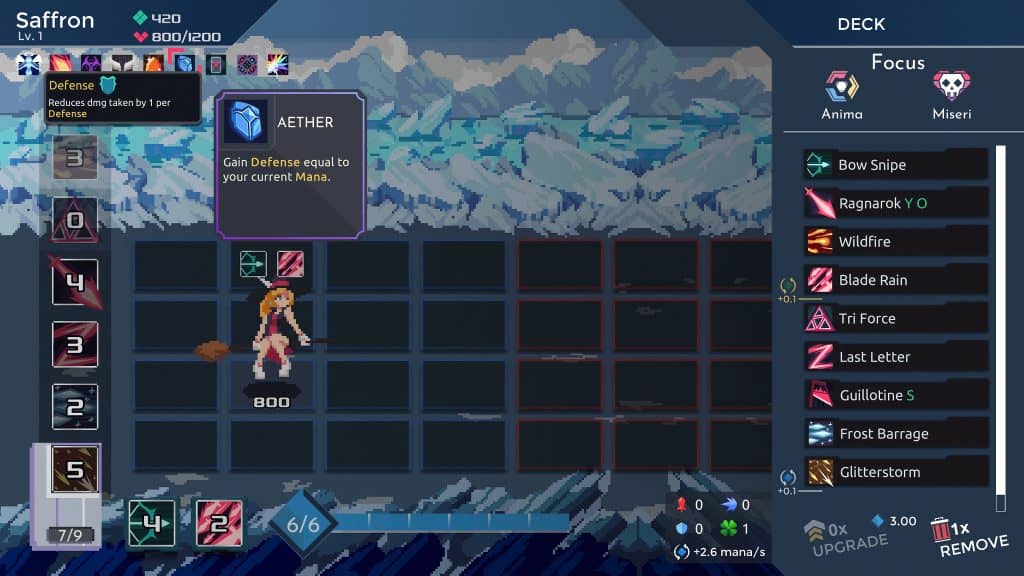 Monster Train
Platforms: Windows, Nintendo Switch, Xbox One
Released: 2020
Monster Train is known to be one of the most popular Deck-building games in the roguelike genre, and for good reason. This game manages to set itself aside from the crowd with its huge emphasis on strategic combos.
Unlike most games of its kind, Monster train lets you play with three different characters simultaneously; giving your deck a ridiculous amount of potential combinations. Understanding these combinations and using them to defeat your opponents makes the game an incredibly satisfying experience.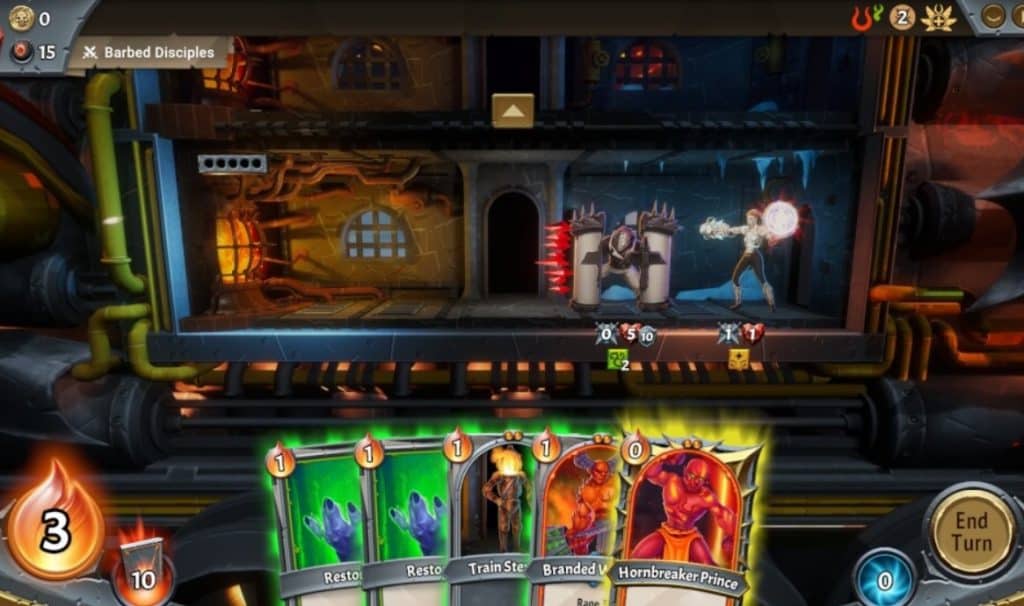 Kards: The WWII card game
Platforms: Windows
Released: 2019
This one will intrigue anybody looking for unique themes with their Deck builders. Kards takes all the popular deck-building mechanics and puts them in a military setting.
This free-to-play game lets you pick a faction and go on to either face the AI, or another player. The game uses a concept similar to Legends of Runeterra where you have to use your cards to protect your base.
Kards lets you easily build up your collection of playable cards as you progress through the game. Beating the AI lets you pick up a few cards while spending a bit of in-game gold gets you a few more.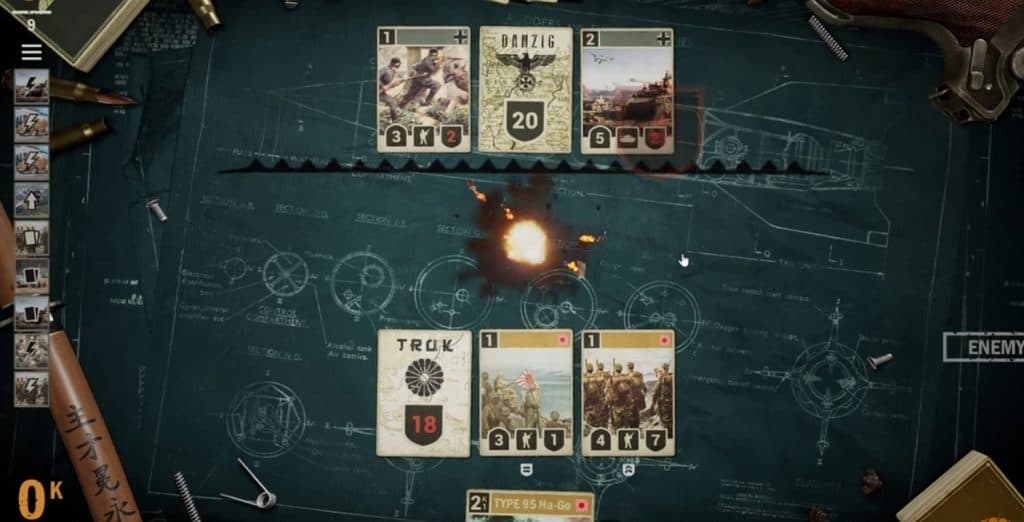 Inscryption
Platforms: Windows
Released: 2021
You could play a thousand deck-building games and still be pleasantly surprised with Inscryption.
Each round is spent playing cards with spooky opponents while learning about the game's lore as you progress. Each card you play either targets an opponent's card on the game board or tips the scale in your favor (Quite literally). You also have fun mini-game puzzles between rounds that feel like fun side quests that you'd pursue to learn about a world's lore.
Inscryption starts off as a regular rogue-like deck builder but slowly evolves into so much more. You will obtain new cards and face opponents with unique abilities that will force you to switch up your strategies as you continue to learn about the dark secrets that the cabin holds.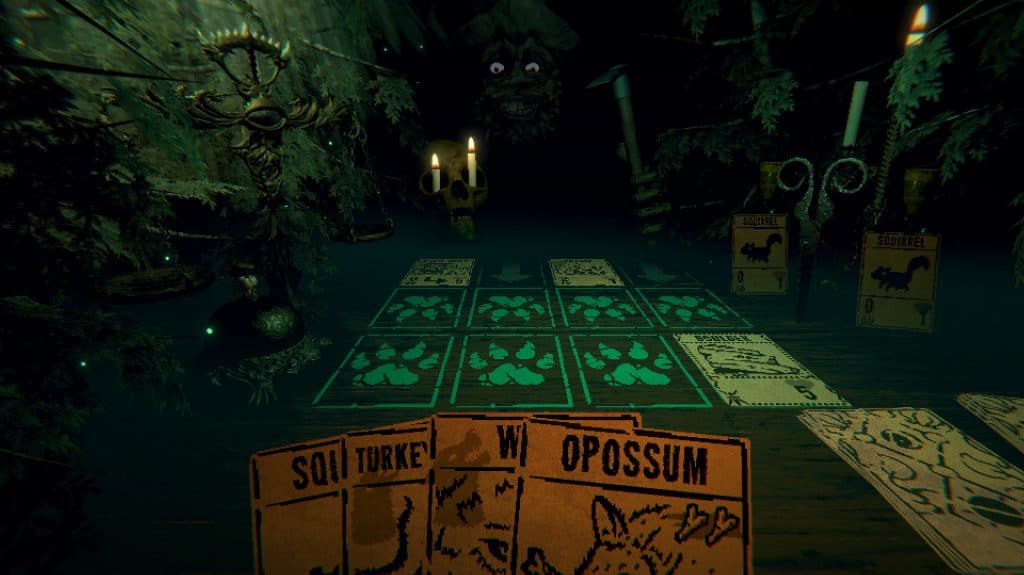 The Elder Scrolls: Legends
Platforms: Windows, Android, iOS
Released: 2017
The Elder Scrolls: Legends uses the lore of TES games as a base for an incredibly interesting Deck-builder. It takes some of the best mechanics of popular Deck builders and combines them into one complex strategy game.
The game features elements like the Mana/Magicka system along with prebuilt decks. It also adds an additional layer of strategy with lanes that give you bonuses depending on card placement.
Legends involves a lot of strategies when it comes to deck-building as you are only allowed to use two out of the five attributes when you build your deck. This makes for interesting card combinations that always keep the game fresh.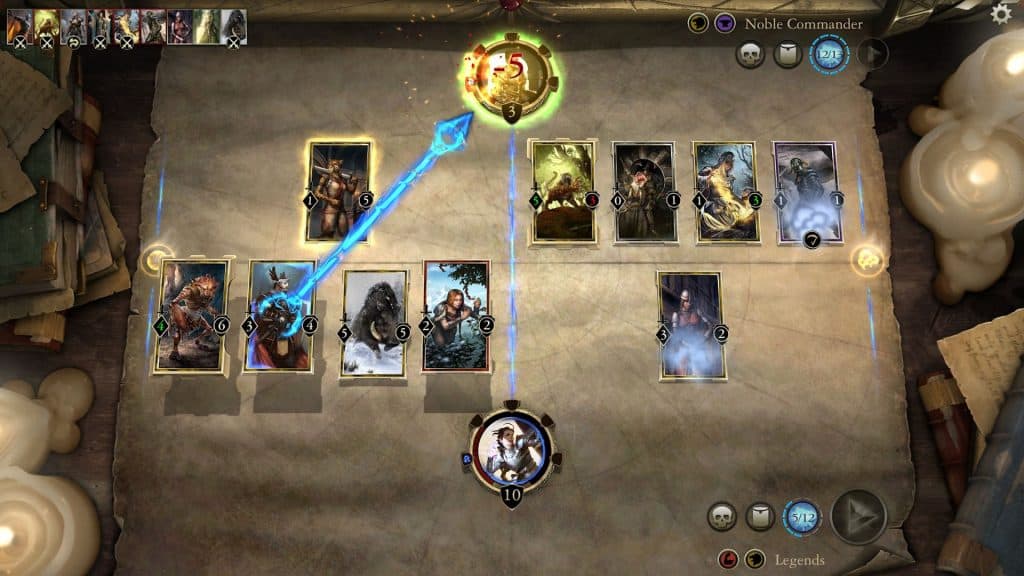 Faeria
Platforms: Windows, Playstation 4, Xbox One, Linux, Android, iOS
Released: 2016
Faeria is another fun take on the Deck- Building genre as it uses popular mechanics seen in card games and adds a new w layer of map building to it.
The game involves placing hexagonal tiles onto the game board and playing your cards on them. These cards function like the ones in most other deck builders; they can be used to either target your opponent's cards or get closer to victory. Faeria is also a great cooperative game with all its PVE content.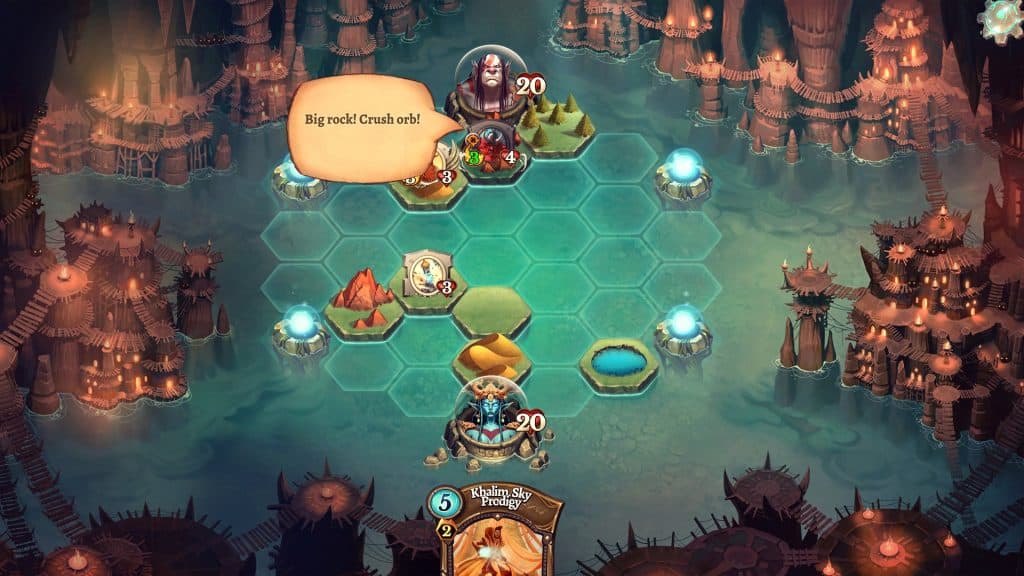 Ascension: Deck-building game
Platforms: Windows, Android, iOS
Released: 2014
If you're looking for a digital card game that feels like offline deck-building board games you're used to, Ascension might be the one for you as that is exactly where it gets its inspiration from. It includes a roster of over 600 cards with beautiful designs that you can mix and match to beat various opponents during your playthrough.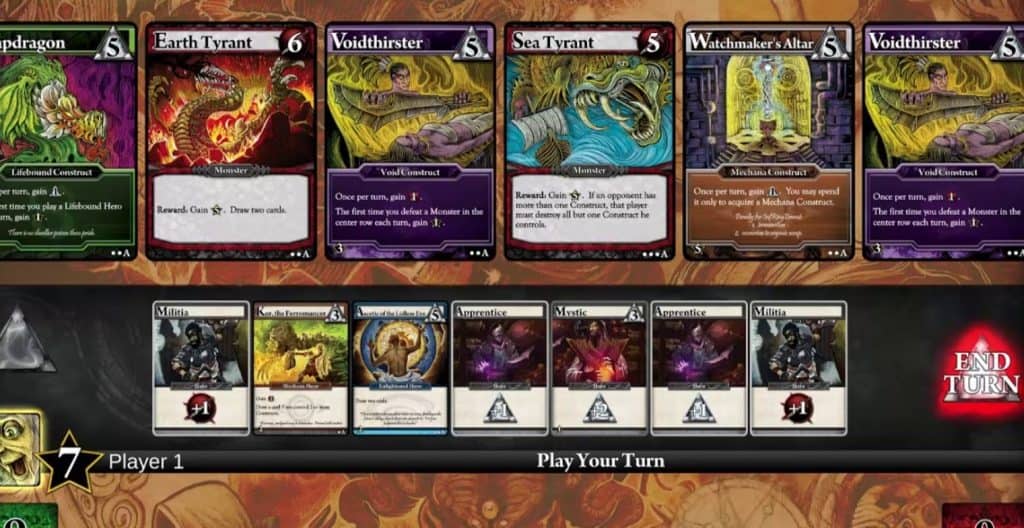 Loop Hero
Platforms: Windows, Mac OS, Linux, Nintendo Switch
Released: 2021
Not many games can keep the gameplay as interesting as Loop Hero does with as little of a story. The roguelike game takes place in an apocalyptic setting where everybody's memories are fading away, except for the protagonist who tries to build it back.
Loop Hero uses a Deck Building element to bring the physical world back into existence. Each card in the game acts as a piece of land. Placing these pieces give your hero various stat bonuses that help you get the auto battling matches against the AI and continue building the world.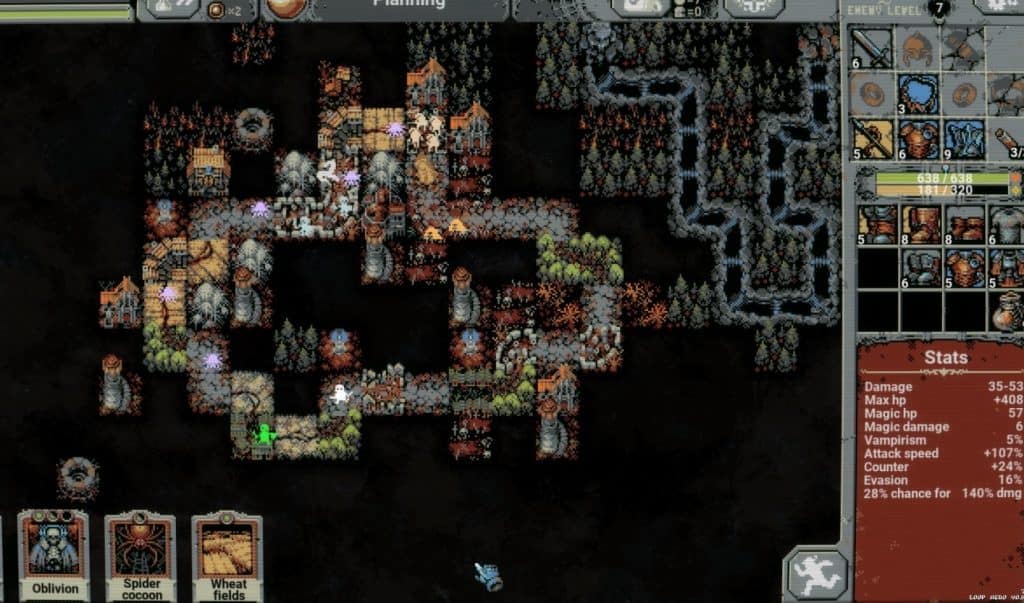 Voice of cards: The Isle Dragon Roars
Platforms: Windows, Playstation 4, Nintendo Switch
Released: 2021
Voice of cards is essentially a tabletop RPG played as a deckbuilding videogame. The game is narrated by a game master who accurately sets the tone of each encounter. The story follows a hero and his party of misfits that; each with their own reason to slay a dragon.
The cards in the game are used for everything from gameplay to story choices throughout the party's adventure. Card battles take place in regular deck-building fashion. Units have health and attack stats that are used to defeat your opponent's units.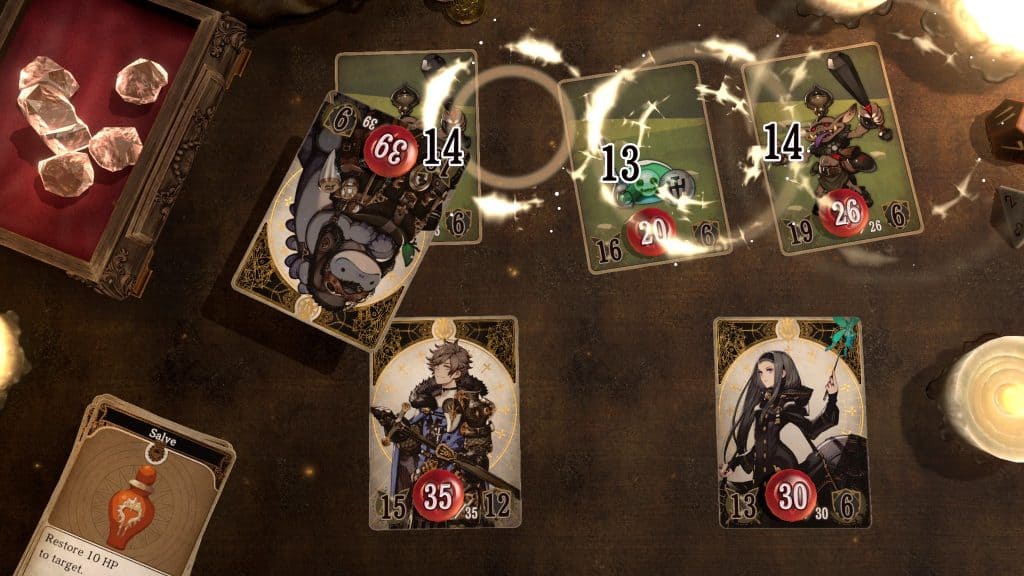 Library of Ruina
Platforms: Windows, Xbox One
Released: 2020
Defeat guests and use their powers to progress through Library of Ruina.
This is a story-rich card game that puts you in charge of a library. As you defeat your foes and progress through the game, they are converted into books. These books store elements of their powers and can be used to strengthen your characters to defeat tougher opponents.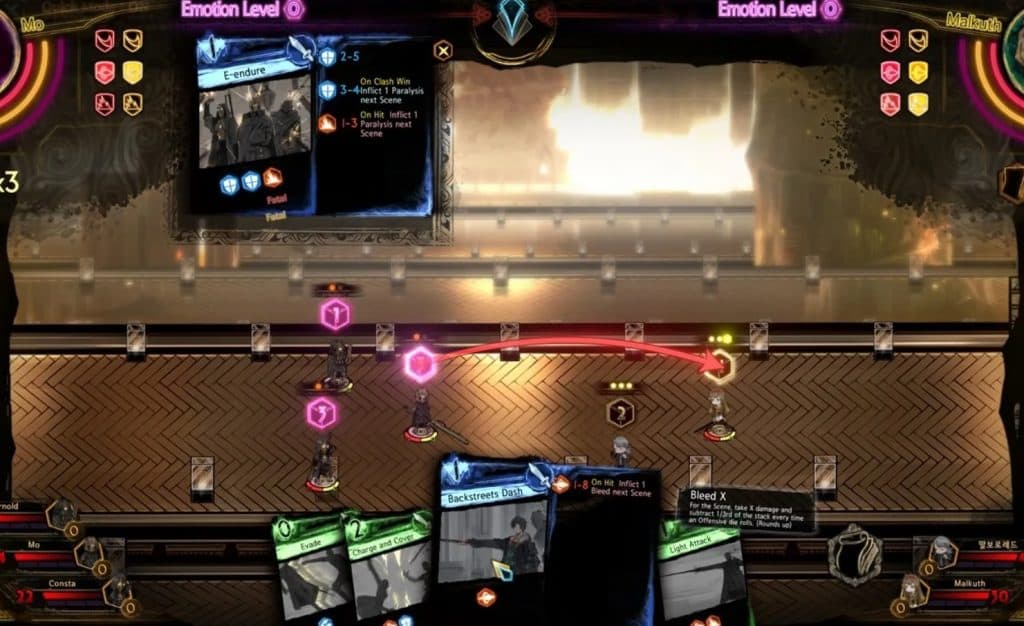 Minion Masters
Platforms: Windows, Xbox One
Released: 2016
Ìf you're looking for a fun card game that converts cards into units on a battlefield, Minion masters is a great deck-builder for you. The game lets you face real-time opponents in a battle that feels a lot like Deck-Building board games coming to life. You also have the option of teaming up with others in 2v2 battles in a co-op fashion to take down other players.
If you want to take a break from the competitive side of things, Minion masters also includes a PvE element where you can travel on a hexagon-tiled map and find encounters that pit you against the AI.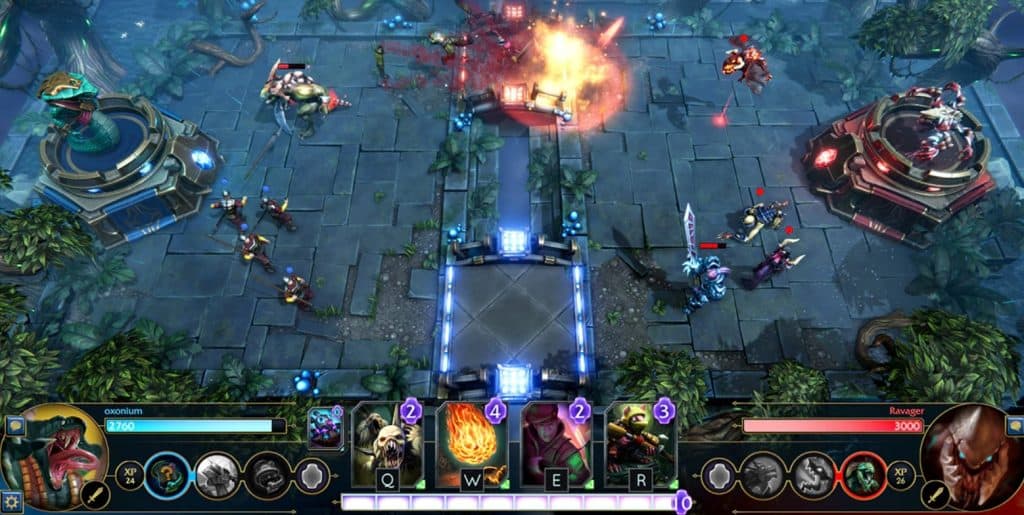 Dicey Dungeons
Platforms: Windows. Xbox series X/S, Adroid, iOS
Released: 2019
Dicey Dungeons is one of the more unique Deck-building games out there right now. As the name suggests, most of its mechanics revolve around dice. It mixes up the traditional card game formula with this new layer to bring forward a truly astonishing game.
As you progress through your journey, you will unlock new characters with unique abilities that demand completely different playstyles. This constant sense of evolution always keeps the game fresh and leaves you finding unique strategies to get through the levels.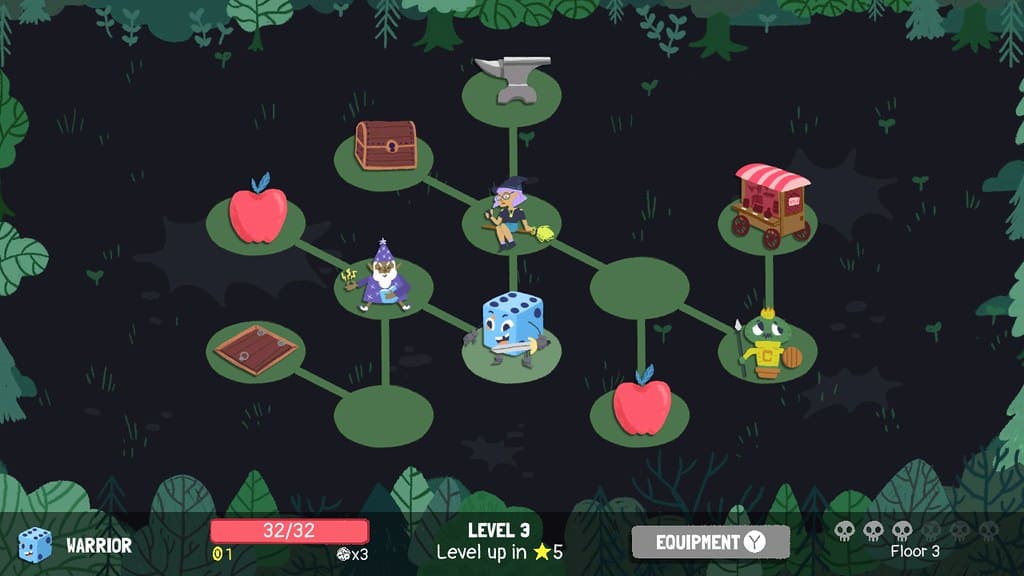 Conclusion
Deck-building videogames come in various forms from competitive PvP games to Story-Rich TTRPG simulators. This list includes some of the best Deck-building videogames. Each of them has its unique strengths. Find the one that suits your needs the best.
Do you agree with our list? Do you have a favorite deck-builder that we missed? Let us know in the comment section below.