So you're finally done with Stardew Valley but still want the same experience? We've all been there, and there are games like Stardew Valley that we can play. There is something relaxing about playing games like Stardew Valley or Animal Crossing. Simply tending to your farm after a long day of work seems naturally satisfying.
It's going to be hard to capture the same charm and charisma of Stardew Valley. Stardew Valley is such a delightful game and is a tough act to follow for any game. Thankfully, there are plenty of alternative games like Stardew Valley. They at least deliver similar levels of relaxing and lovable gameplay experience.
The 21 games like Stardew Valley are not in any particular order. All of them offer something unique, and we highly recommend that you check out the whole list.
21 Games like Stardew Valley
1. Moonlighter
Platforms: PC, PS4, Nintendo Switch, Xbox One
Moonlighter is a 2D top-down game similar to Stardew Valley. During the day, it's a thorough management game, allowing you to be a shopkeeper. You stock up your shelves with items to sell and barter with customers to get a better deal.
Come nightfall, you become a warrior, going into dungeons to farm items for your shop. Despite the gameplay loops owning simple, there is also a delightfully well-crafted story to follow. The game offers a good amount of management that is akin to Stardew Valley. However, the rogue-like dungeons make it stand out from the rest.
2. My Time at Portia
Platforms: PC, PS4, Xbox One, Mac, Nintendo Switch, Xbox Cloud, iOS, Android
Studio Ghibli inspired the art of My Time at Portia. The studio that made Spirited Away, My Neighbor Totoro, Princess Mononoke, and many more. The game takes you to the wonderful town of Portia where you restore your father's old workshop to its glory. You fulfill commissions, raise animals, grow crops, and chat with colorful characters in the town.
The workbench and your Pa's old handbooks aid you in making the workshop number one in town. Mining, crafting, and gathering help you in your goals. You can also go on dates and ignite romance in the game. To think My Time at Portia is a 3D Stardew Valley wouldn't be wrong. It is a must-play game for someone looking for games like Stardew Valley.
3. Graveyard Keeper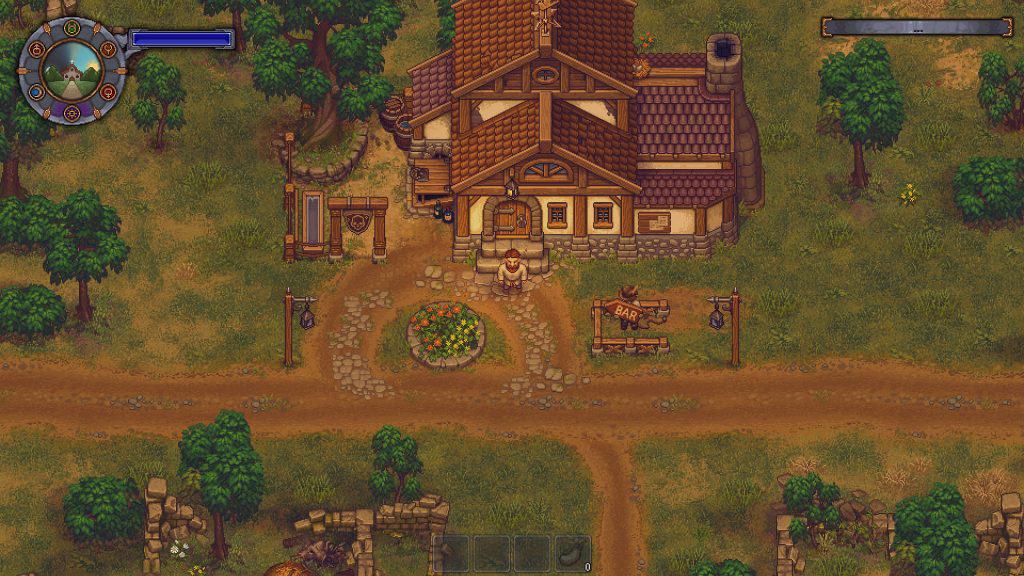 Platforms: PC, Mac, Linux, Xbox One, Nintendo Switch, PS4, iOS, Android
Farming and graveyard keeping are different professions, but it turns out, the gameplay loop is quite similar. You play as the Graveyard Keeper of a medieval cemetery, and your goal is to make a profit. You are also tasked with keeping the dead buried and where they belong. Taking shortcuts to making the most money is the aim here.
Like Stardew Valley, Graveyard Keeper also involves a love story. The tagline says it's the most inaccurate medieval cemetery management sim of all time. So there isn't anything historically accurate here. Build your graveyard, gather materials, and craft items, and expand your graveyard into a thriving profitable business.
4. Farming Simulator 22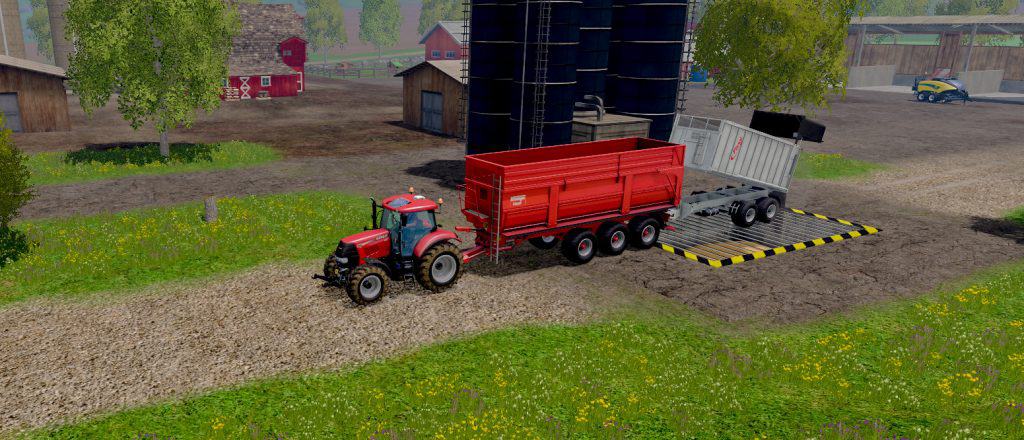 Platforms: PC, Mac, Stadia, PS4, PS5, Xbox Series X, Xbox One
Farming Simulator 22 is for those who love the farming aspect in Stardew Valley. As the name suggests, the game offers everything you expect from a farming game. From agriculture to animal husbandry, and from forestry to harvests, you'll manage all aspects of a successful farm.
As it is a farming sim, you'll need to manage your activities according to the seasons in the game. Just like real life, this Farming Sim is more accurate and labor-intensive than Stardew Valley. However, if you're a fan of farming, it's a relaxing experience that is better when shared with friends. Farming Simulator 22 also has realistic 3D graphics that can immerse you in its agricultural world.
5. Forager
Platforms: PC, Linux, Nintendo Switch, PS5, Xbox One, iOS, Android
Forager is directly inspired by Stardew Valley, Terraria, and Zelda. The influences are evident in the 2D art style that's reminiscent of old-school Zelda games. It's a wonderfully designed open world that rewards exploration. There are multiple biomes to explore, all offering unique resources. You'll manage your gathered and collected resources and craft items with them.
The main goal is to make a base and make it grow over time. You can buy more land to expand your base. The game also has some light RPG elements like leveling up, learning new skills, new abilities, and unlocking blueprints. There are dungeons to raid, puzzles to solve, and secrets to find in Forager.
6. Farm Together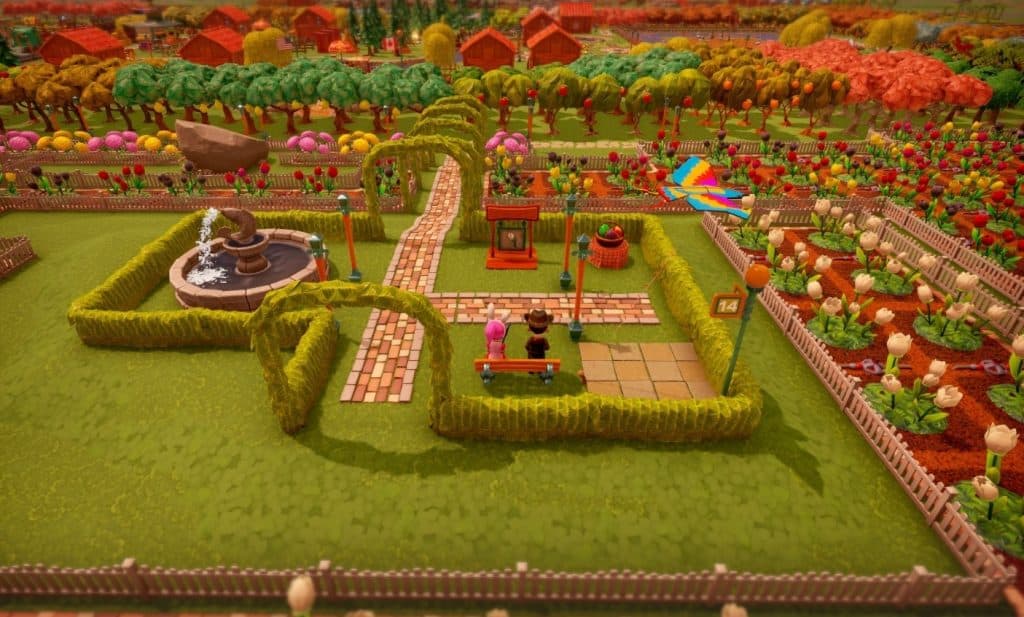 Platforms: Nintendo Switch, PS4, Xbox One, PC, Linux, Mac
Start from zero in Farm Together and make a thriving farm with or without your friends. The game also has a great permission system that allows you to invite strangers to your farm without the worry of vandalism. Invite your friends over to make the farm you desire.
You can also make your very own house and decorate it however you want. It is not a farming simulator, but it comes close. The game lets you plant trees, take care of farm animals, and grow crops. You can then use the money by upgrading facilities and purchasing new buildings.
There are plenty of options available for customization, too. Roads, decorations, fences, buildings, and even clothes are available for you to express yourself. There's even tractor customization. The social aspects of the game are great too, visit your friend's farm to lend a hand and see what they are up to.
7. Littlewood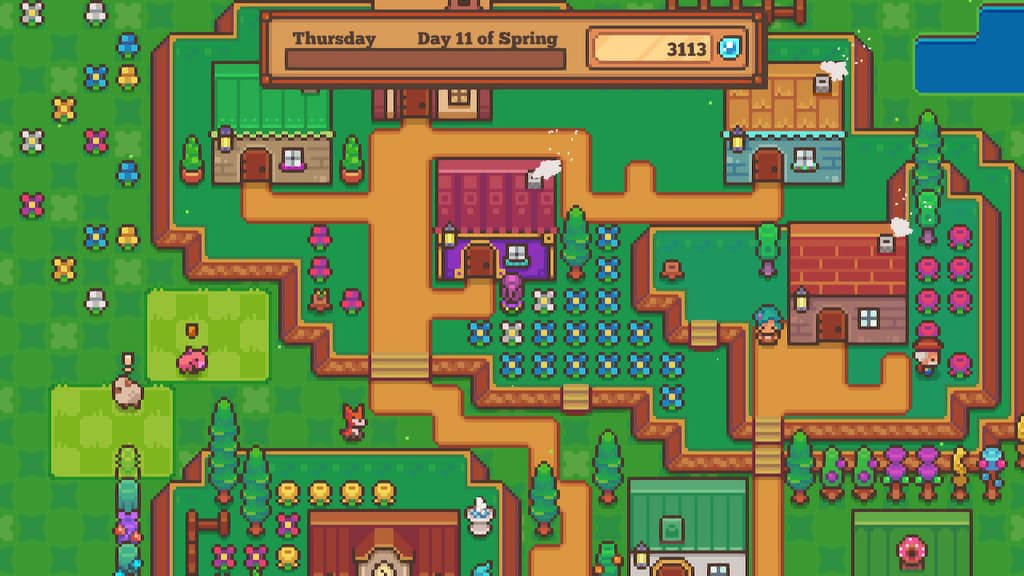 Platforms: Nintendo Switch, PC, Linux, Mac
Littlewood has cute pixel-style graphics and a big world to explore. There are enchanted forests, fishing towns, mining caves, and a lot more to discover. You play a hero that successfully defeated the dark wizard and saved the world, however, in doing so you've lost your memory.
In true Stardew Valley fashion, you meet townsfolk and try to make them stay in your town. Collecting materials, harvesting wood, catching bugs, fishing, and unlocking new structures make you advance in the game. You can also fulfill requests from the townsfolk to gain their trust and affection. From farming to cooking and from mining to selling, Littlewood has big things to offer.
8. Sun Haven
Platforms: PC, Mac
Stardew Valley is magical, but it doesn't have actual magic. This is where Sun Haven shines, it has magic, and fantasy and even lets you play as a cat. This farming sim from Pixel Sprout Studios is a charming game set in medieval times and has a lot of magic.
You don't even need to be human in Sun Haven, you can be an Elf, Demon, Elemental, Amari, and Naga. The game offers online co-op with up to 8 people as well, so you can invite your whole party. If you think Stardew Valley was missing fantasy and dragons, Sun Haven is going to be right up your alley.
9. Garden Story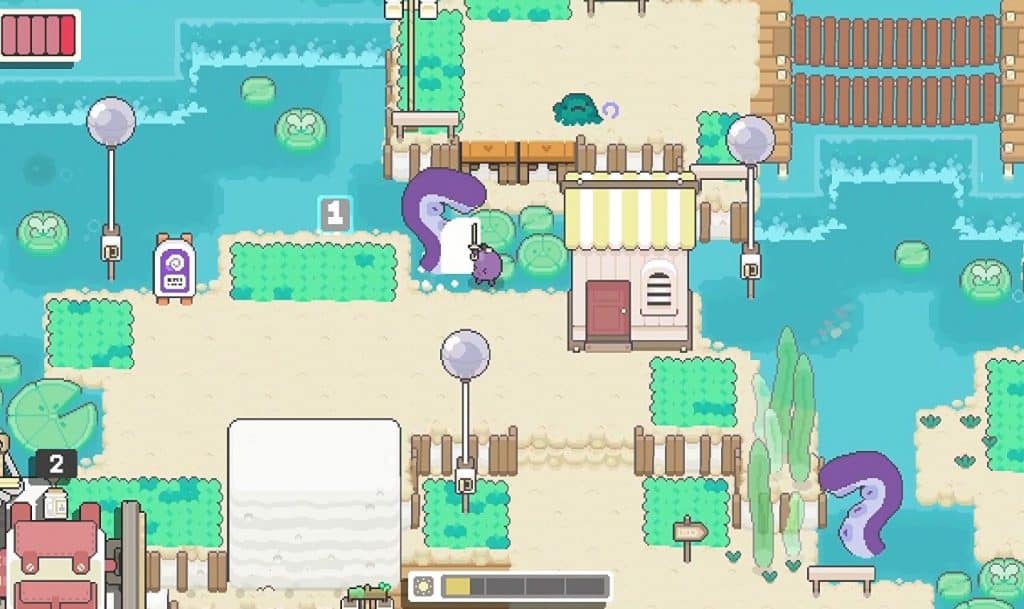 Platform: PC, Nintendo Switch
Garden Story has one of the best-looking color palettes in a Stardew Valley like game. Developer Picogram made a cute and beautiful world that you protect. You are a grape, yes, you read that right. You play as Concord the grape and protect The Grove with the aid of your fruit, amphibian, and fungi type of friends.
While the game offers the usual Stardew Valley busywork, there is also a bigger story at play here. You tackle the changing seasons, rebuild the island, and combat the Rot. You also cultivate, pun intended, relationships with other inhabitants who will in turn come to your aid when the need arises.
10. Hokko Life
Platforms: PC
Like Stardew Valley, you live in a cozy and peaceful village that is ripe with all matters of farming opportunities. You'll be able to farm, fish, and craft in this charmingly designed game like Stardew Valley. Hakko Life offers even bigger levels of customization, you can go to your workshop and redesign your home and the whole town around you.
You catch bugs in Hokko Life too. Like Animal Crossing New Horizons you'll be able to cultivate a collection of bugs. Hakko Life is currently in early access and the developers, Wonderscope Games are taking feedback from the players.
11. Diaries of a Spaceport Janitor
Platforms: PC, Mac
Diaries of a Spaceport Janitor isn't exactly like Stardew Valley. There are no farms, no fishing, and certainly no earthly exploration here. The game is a slightly depressing tale of a spaceport janitor. So why is it on the list? It's because it follows the same idea of exploring a town, meeting new faces, and growing relationships.
You'll be buying and selling, cleaning up litter, finding food to eat, and following a set routine. You can also pray to the Nine Goddesses and see if your luck changes. Navigating the side streets, plazas, alleys, and bridges to find stuff to burn is oddly therapeutic.
12. Yonder: The Cloud Catcher Chronicles
Platforms: PS4, Xbox One, PC, Xbox Series X/S, PS5, Nintendo Switch
What if you remove all combat from Legend of Zelda: Breath of the Wild? You'll get Yonder: The Cloud Catcher Chronicles. The game has beautiful graphics and lets you explore a gorgeous open world. In addition to having no combat, the game also doesn't have much of a story. So you are completely free to play the game at your own pace.
There is great character customization. You can also gain mastery in professions like chef, tailor, and carpenter. There is a dark murk taking over the island. Crafting and trading items is one way to clear out the murk. 8 different biomes are available in this farming game for you to grow farms in.
13. Story of Seasons: Pioneers of Olive Town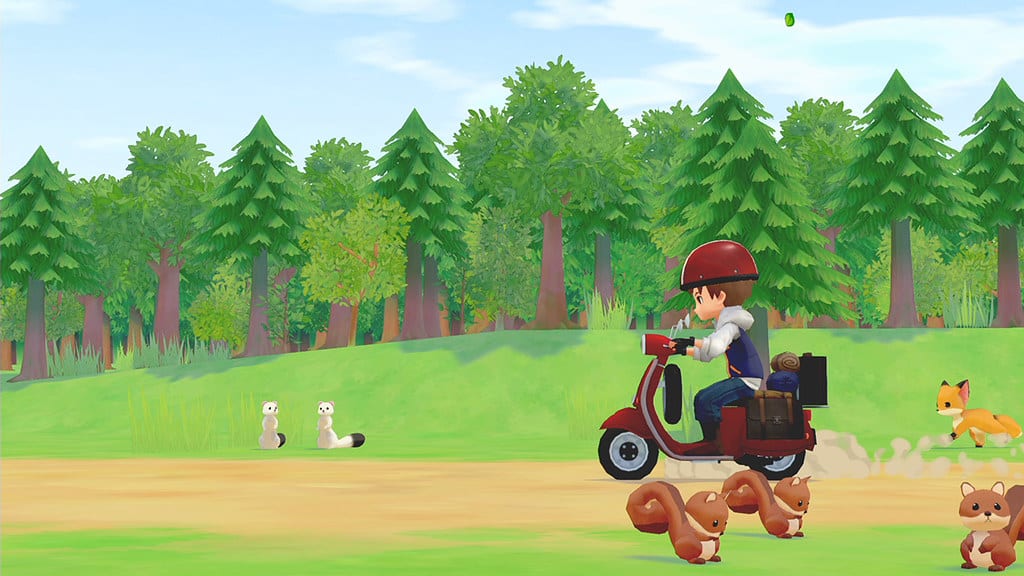 Platform: PC, Nintendo Switch, PS4
Story of Seasons: Pioneers of Olive Town lets you take over your grandfather's farm and make it grow. The game takes place in a quiet and peaceful town and has local activities to offer. There are side quests for you to take on, cultivate crops, craft tools, and facilities.
Making your farm from the ground up is the main draw of this life sim. Taking on the wilderness, gathering materials, and even leveling up as you go is the meat of the experience.
14. Slime Rancher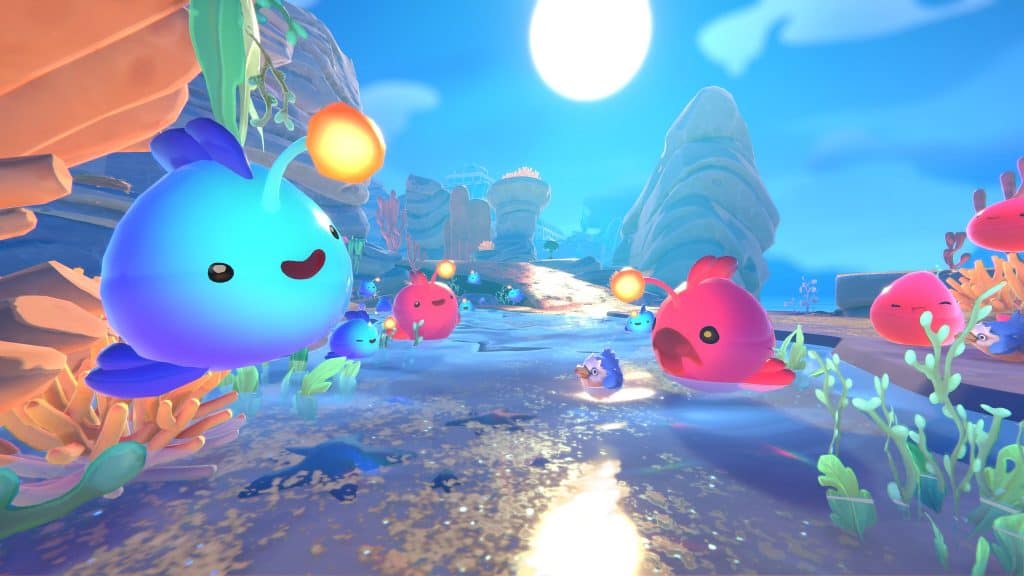 Platforms: Nintendo Switch, PS4, Xbox One, Mac, PC, Xbox Cloud, Linux
The Slime in Slime Rancher is poop. It's called Plort in the game, but we all know it's poop. The Plort is adorable though, it bounces around and different animals inspired it. The goal is to farm Plort and sell it in the Plort market.
Slime Rancher is a chilled-out game about harvesting Plort and making a living selling it. The prices fluctuate just like in the real-life stock market. The game isn't exactly like Stardew Valley, but it offers a similar relaxed gameplay loop.
15. Voodoo Garden
Platforms: PC
Voodoo Garden is a simple Stardew Valley experience. It's an idle clicker game, that's superbly relaxing. In the game, you grow ingredients for voodoo magic and potions.
This ranges from flowers to mushrooms and from honey to frogs' legs. In a dark twist, you can grow chickens and rabbits for ritualistic sacrifices. Don't worry, even when dead, their spirits return to help you tend the garden.
16. Core Keeper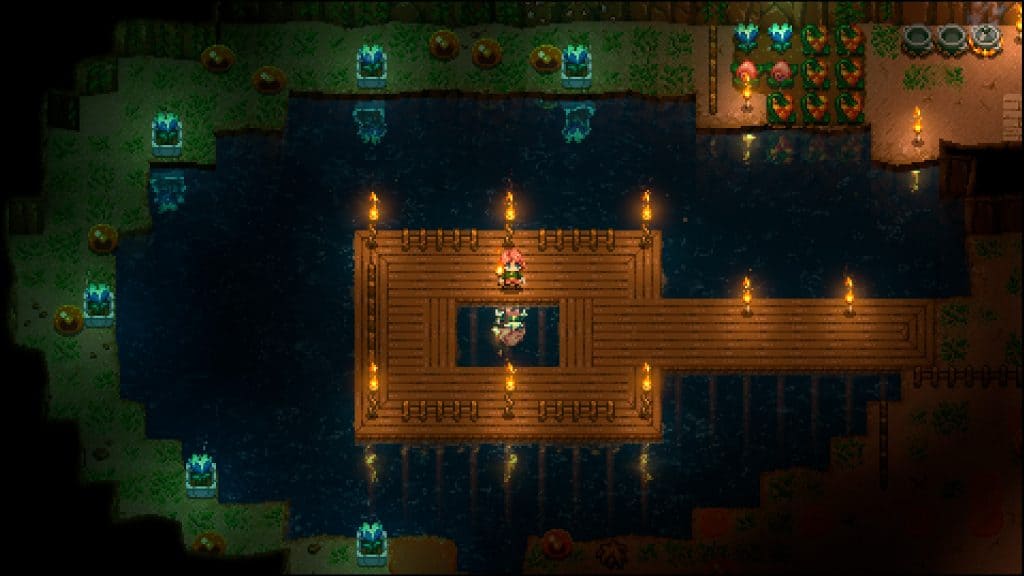 Platforms: PC
Core Keeper is an early access game that is a good mixture of Stardew Valley, Minecraft, and a base-building game. You are going to mine resources underground and create a base with up to 8 online players.
You'll need to plant crops and erect structures to survive. The game is getting good updates and more biomes, plants, and crafting stations are on the way.
17. Story of Seasons: Friends of Mineral Town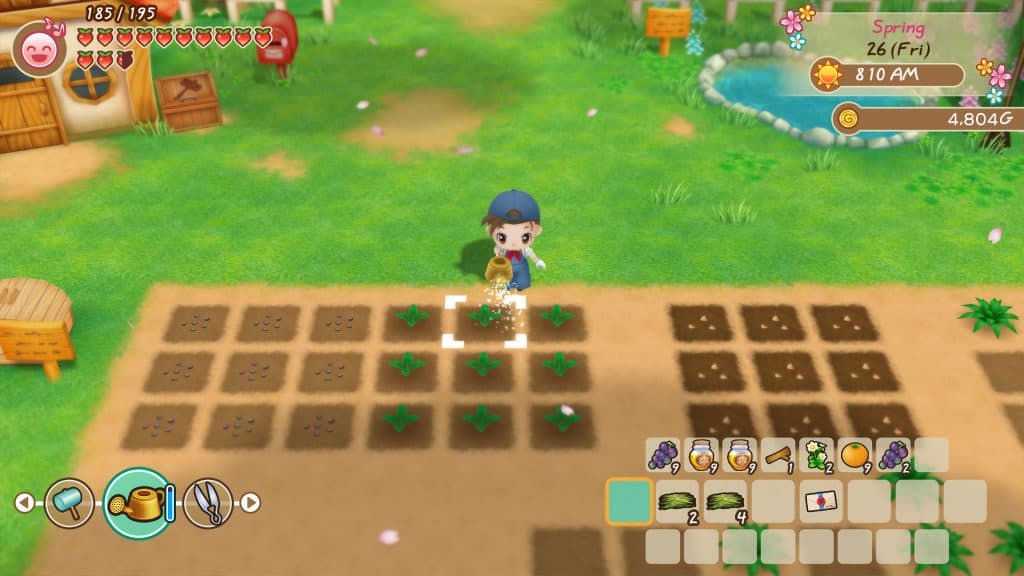 Platforms: Nintendo Switch, PS4, Xbox One, PC
Harvest Moon was the main inspiration for ConcernedApe, the developer of Stardew Valley. Yasuhiro Wada, the creator of Harvest Moon, in turn, praised Stardew Valley for its level of freedom. So it's only natural we include the best Harvest Moon, Friends of Mineral Town in the list.
Unfortunately, the original GBA game is hard to get. Thankfully, the remake of Story of Seasons: Friends of Mineral Town is easily available. You play a young guy that inherits a farm in Mineral Town. Now it's up to you to restore the farm, create bonds with the locals, and even find love.
18. Animal Crossing: New Horizons
Platforms: Nintendo Switch
This Nintendo-exclusive farming simulator has a lot going on for it. If you don't like combat and love smashing your neighbors with nets, then this game is for you. The beautiful graphics combined with charming characters make Animal Crossing: New Horizons a must-have game for Animal Crossing fans.
You grow flowers, plant trees, and terraform your whole island in this charming game. There are animal neighbors to have on your island. You can also spend your day fishing and catching bugs. It is truly one of the most relaxing gameplay experiences you can have. Invite over friends to your island or visit theirs to see what they are up to.
19. World's Dawn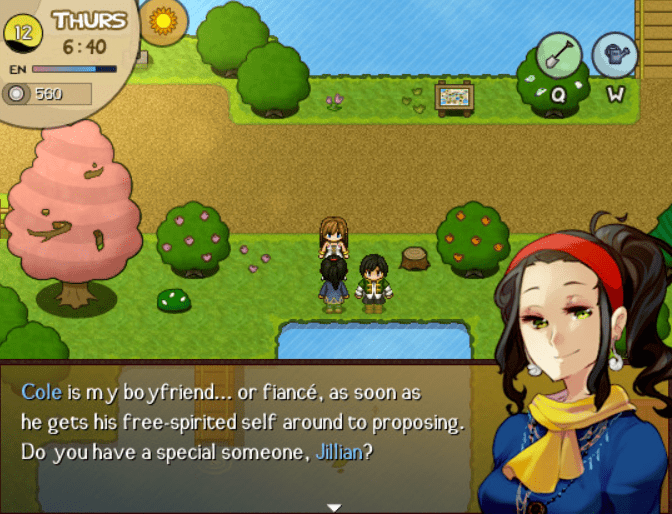 Platform: PC
World's Dawn comes close to Stardew Valley without being Stardew Valley. You live in a small, quaint town, make relationships with the townsfolk, and look after your farm.
The changing seasons in the game keep everything fresh. The graphics are well-designed and have a simple charm to them. If you want a game like Stardew Valley, World's Dawn should be on your wishlist.
20. Kynseed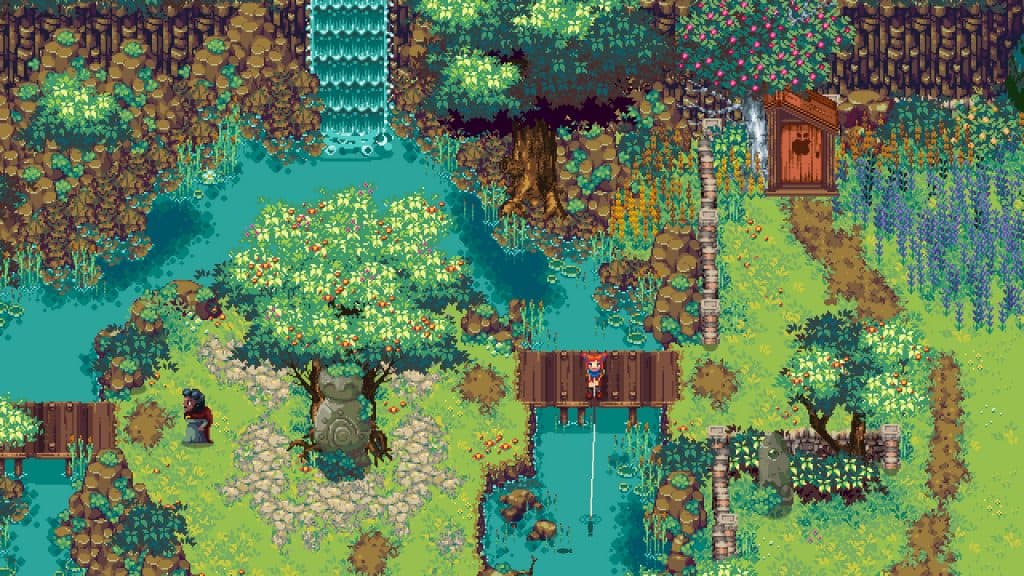 Platform: PC
Imagine Stardew Valley at super speed, and you'll have Kynseed. The time goes by much faster in this game, allowing you to get married, have kids, and eventually pass away. Your kids can then carry on the cycle.
You'll still be farming, setting up shops, and going on adventures. The cross-generation nature of the game makes it never-ending.
21. The Sims 4
Platforms: PS4, Xbox One, Mac, PC, Xbox Cloud
If farming isn't your jam, and you crave the social aspects of Stardew, then The Sims 4 might be the game for you. You control the lives of your sims in this life sim and see them prosper. If you ever feel powerless in real life, The Sims 4 lets you play god.
Create your sims with unique appearances, personalities, and aspirations. Make the home of your dreams using the creative Build mode, or explore the world of Sims.
Make sure to check out our guides to the Games Like It Takes Two, Games Like Teamfight Tactics, Games Like Skyrim, Games Like Command and Conquer, Games Like Warframe as well as Games Like Fallout 4.
Conclusion
Stardew Valley fans love a good farming sim. From the Harvest Moon Series to Hokko Life, they adore farming games. We've included some of the best games like Stardew Valley that all offer something unique. Some allow you to make your own farm while some lets you adventure and explore.