The complex experience that Hero's Hour brings to the game mainly comes from its set of unique factions, each with its playstyle and carefully themed abilities.
While the intricacies of these factions are what make Hero's hour as much fun as it is, they can make picking a faction incredibly overwhelming. This Heros hour factions guide should give you a quick summary of what each faction brings to the table so you can choose which one is most appealing to you.
Heros Hour Factions
The following are summaries of the playstyles and strategies that each faction uses, so you can pick the one that suits you the most.
Order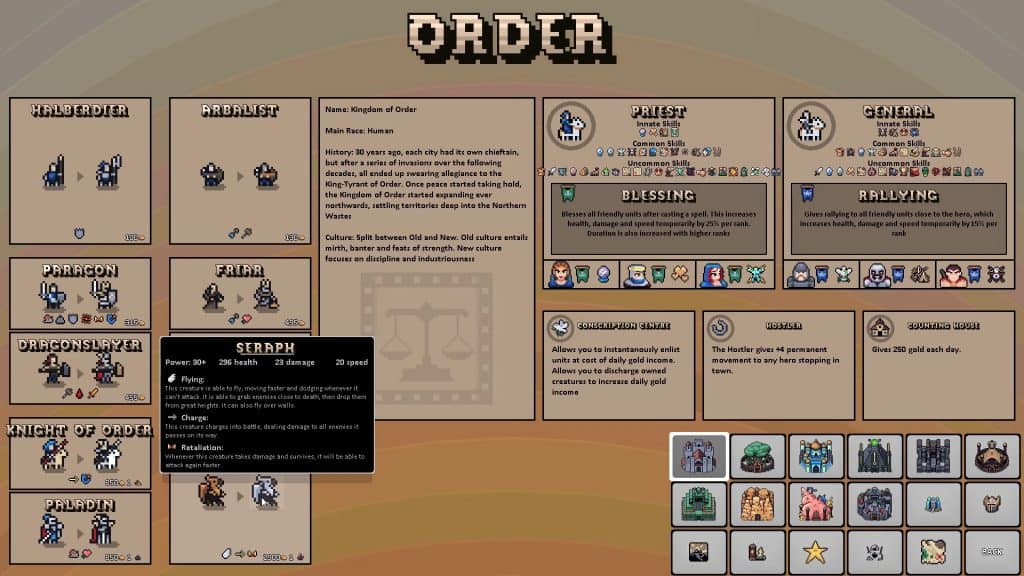 As the name suggests, the 'Order' Faction is made up of troops that would traditionally be considered to be 'Lawful good' in fiction. It includes units like Cavalry, Paladins, and Monks- all classic character types found in a lawful town.
The faction focuses on tanky characters that are very difficult to kill. A lot of the units you can create have access to the 'Protected' trait that shields them from the opponent's first attack. The hero classes of 'Order' have skills that increase the stats of troops so they can stay alive for even longer.
In tune with the units from this faction, the heroes of Order have special skills that buff the stats of friendly troops. The priest heroes can increase unit stats by 25% with a spell while a general increased them by 15% while they are nearby.
Pillar
Contrary to the 'Order' faction, 'Pillar' equips its units with abilities that boost its offensive potential. These inhabitants of the Lost Continent have features like 'Quick Strikes' that help them attack their opponents more often while also letting ranged units do their job from further away.
The 'Balancer' unit lives up to its name by going in the opposite direction and keeping the units of the class sustainable with its regeneration and resurrection capabilities. The Pan Za comes with a tank ability that can strategically be used to let the offensive units of the faction shine.
Arcane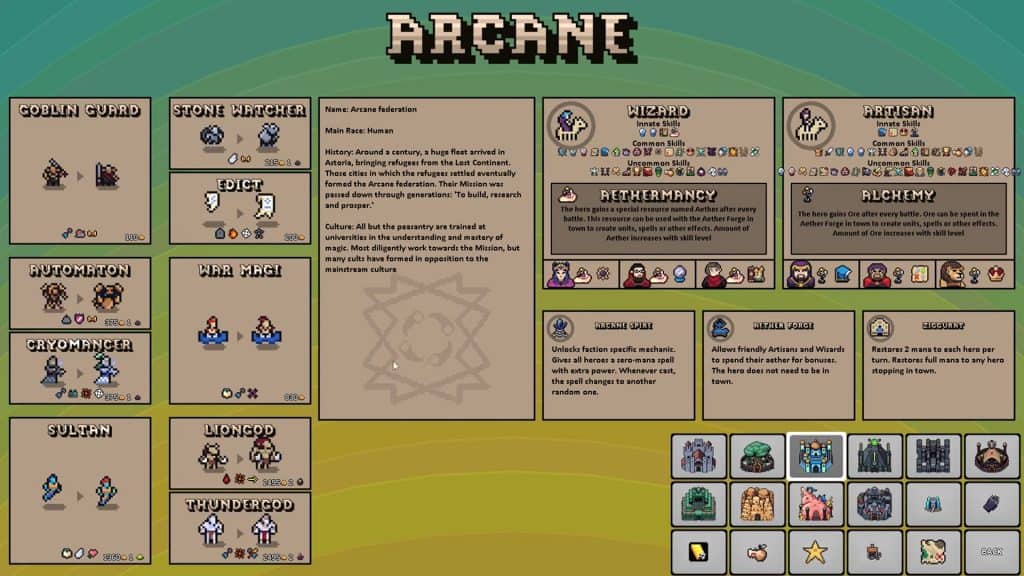 If played through the tutorial, you are probably already familiar with 'Arcane'. Its playstyle puts a heavy emphasis on mana and the use of spells, which leaves a mixed but well-balanced set of troops in your army. You can find a good spread of tank, high-DPS, and support units that you can draft.
Most of Arcane's notable features can be found in its buildings and hero skills. The Ziggurat helps replenish your hero's mana while the Arcane Spire gives you a zero-mana spell for when you run out of it.
The importance of spells with this playstyle requires you to keep your heroes alive. While they can come back to life fairly quickly, you will fall at a disadvantage when they are off the battlefield.
Decay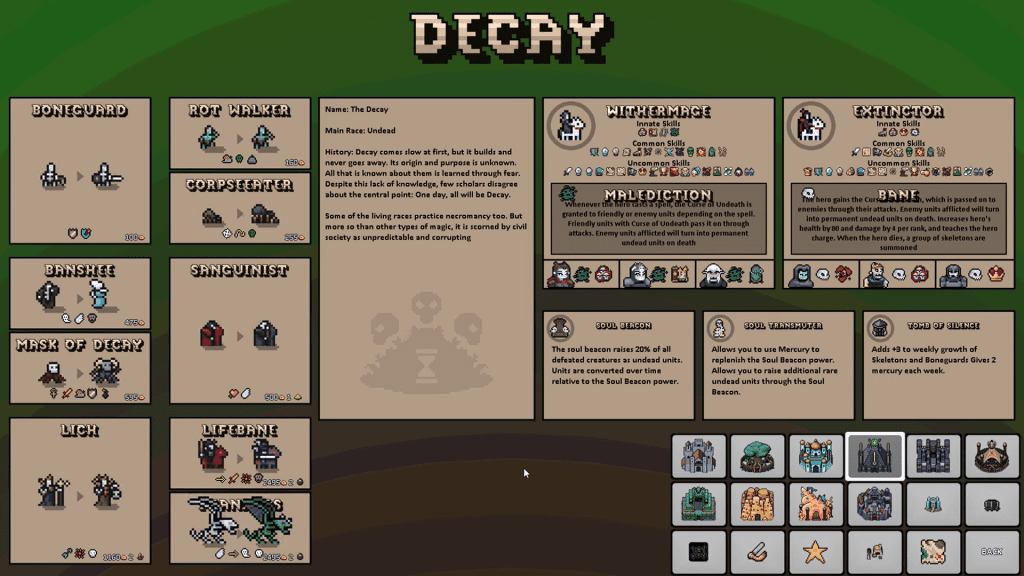 With its fascinating necromantic abilities, the 'Decay' faction lets you create a large army of undead units as you explore the map.
Planning your encounters and only going for ones that are easy wins is a necessary strategy in Hero's hour, and is especially rewarding with the decay faction. Depending on the heroes you choose, you will have varying abilities that let you turn living and dead units into undead creatures.
The units of this Decay may not be the bulkiest of the bunch but have a few abilities to make up for it. Deathseekers can come back to life after the battle while vampires have the 'Leech life' ability to keep them alive.
Pyre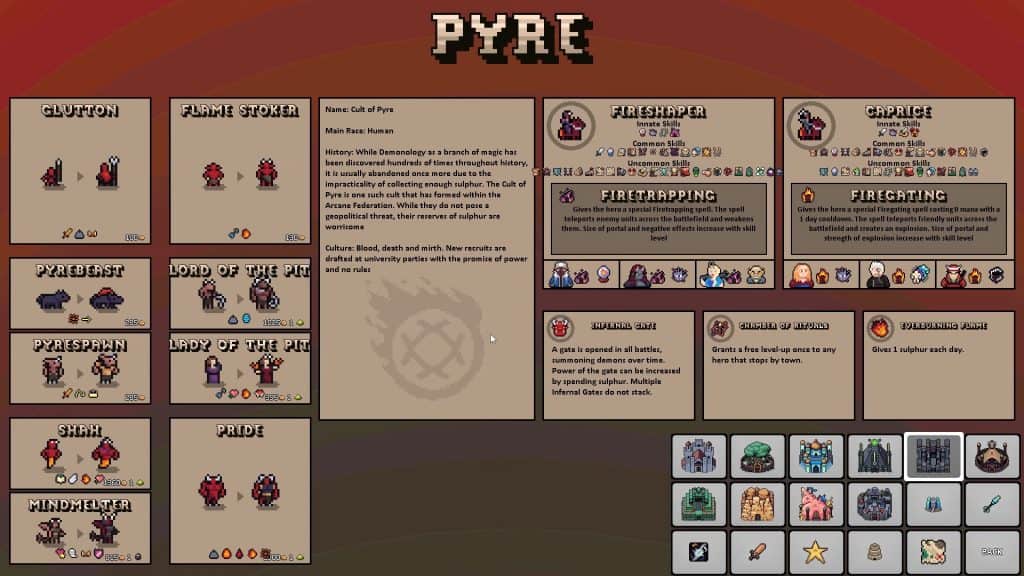 As you'd expect from a faction with fire as its main theme, Pyre is a potent faction on offense. However, do not let the glass canon units distract you from ones with other complementary powers.
The diverse abilities that this faction brings to the table leave a lot of room for creative strategy. Basic demons like imps with limited abilities can still be incredibly useful as melee combatants while enemies are attacked from further away. As you unlock more unit types, you will find their features only increasing in quantity.
Pyre comes with great buildings that fit very well into its theme. Building the infernal gate can bring an additional layer of strategy to your fights, while the ever-burning flame provides you with sulfur and helps you in transportation.
Lament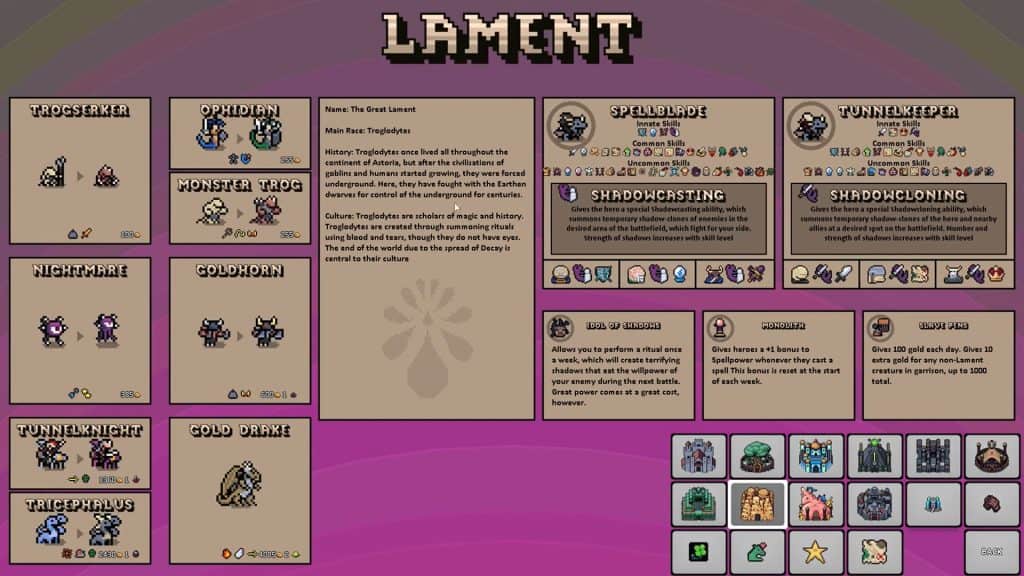 This is another faction with a wide range of abilities.
The units of Lament do a great job avoiding damage from enemies. Trogserker and Goldhorn have the 'Sturdy' ability that makes them much more bulky and difficult to take down. Meanwhile, Abilities like Confusion and petrification leave enemies in no state to attack your troops.
These defensive abilities work incredibly well with the offensive units that can apply a poison debuff to the opponent, dealing damage over time to them. This lets you finish your opponents off while they waste their time trying to deal damage to you.
As usual, the buildings of Lament support this archetype with ones like Idol of Shadows helping you petrify your opponents. Your hero's unique abilities also let you spawn additional units that can help you distract your opponents while they suffer poison damage.
Horde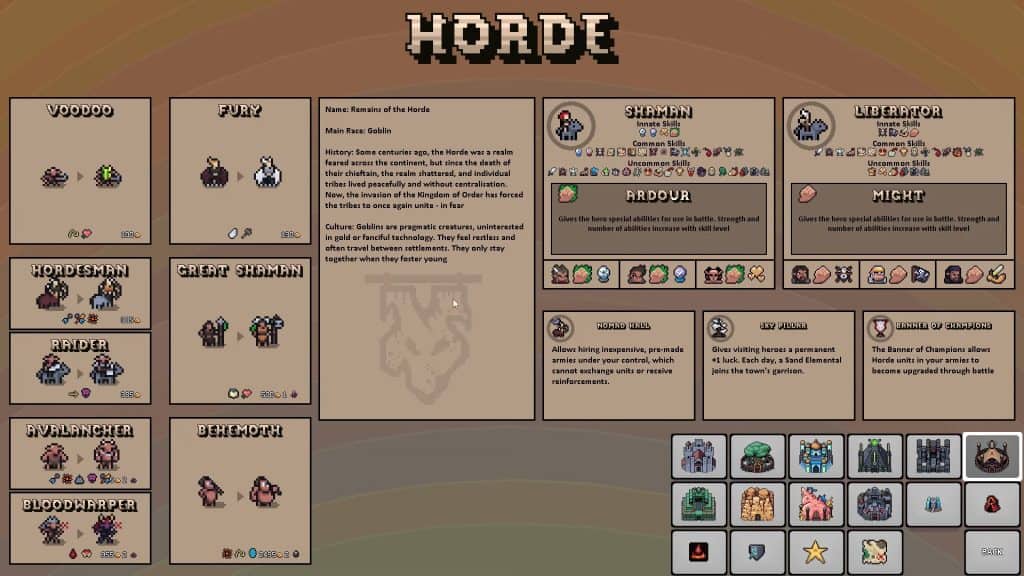 If you're looking for a faction that puts a heavy emphasis on battle strategy, this might be a great option for you. The units of this group excel at offensive abilities and require thorough planning on your part, even during the early game.
Like Decay, Horde strengthens its army by defeating enemies in battle. However, instead of recruiting new allies, it uses the 'Banner of Champions' to upgrade its troops and continue conquering the land.
The troops of this army use a deadly combination of keeping their opponents at a distance and using ranged attacks to take advantage of them. Abilities like 'Terror' and 'Knockback' not only do a great job at keeping enemies at a distance from which they can be attacked, but also give you the time to regroup and manage your remaining health points.
Wild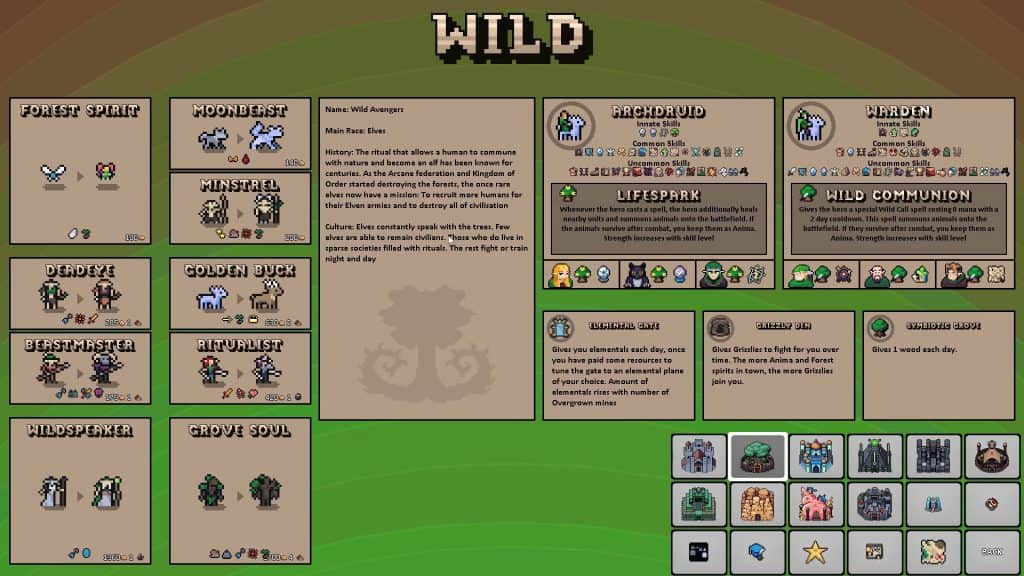 With its heavy focus on Anima summons, Wild can be an interesting faction to run.
A few units of this faction come with the 'Afterlife' ability, which lets them respawn as Anima. This is helpful for your army as the amount of them you own dictates the amount of Grizzlies that will join your faction.
Grizzles are important to 'Wild' as they are one of the only units, along with Grove Souls that have defensive capabilities. Pairing them with the offensive units of this Hero's hour Faction will open up a whole new set of strategies for your games.
Tide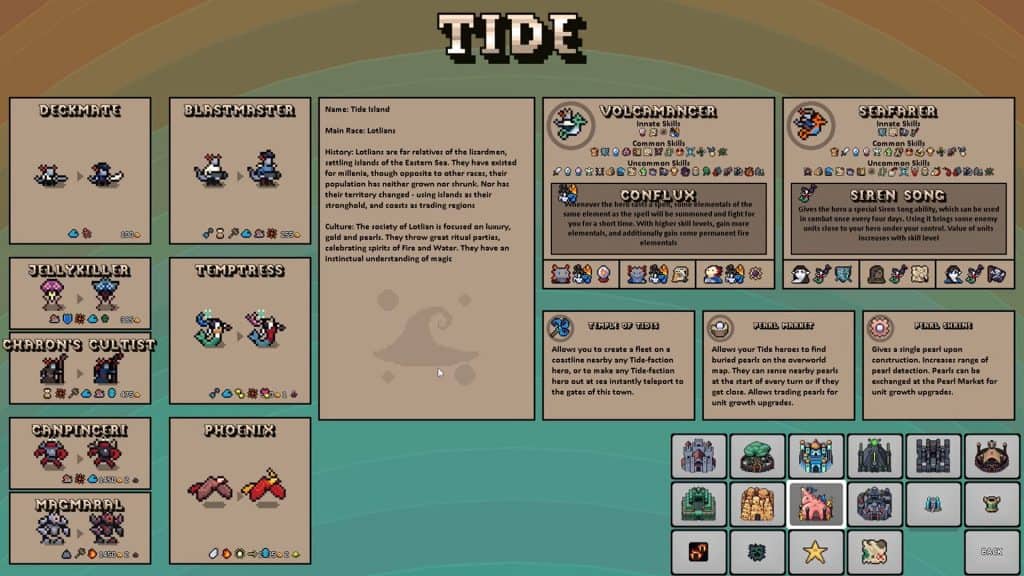 The Tide faction is exactly what you would expect it to be: Full of units that use water to 'Turn the tides' of a battle.
While a lot of these units have a few special abilities that can help them get through fights on land, they truly shine in battles held on boats, in the sea. The 'Aquatic' ability that a lot of units in the faction possess helps them sustain the army by reviving themselves when thrown in the water.
Everything else in the faction makes the best use of this ability while using other water-themed tropes to enhance the faction. A lot of buildings here give you the ability to find pearls across the map. These pearls can be used to grow your army even further.
Earthen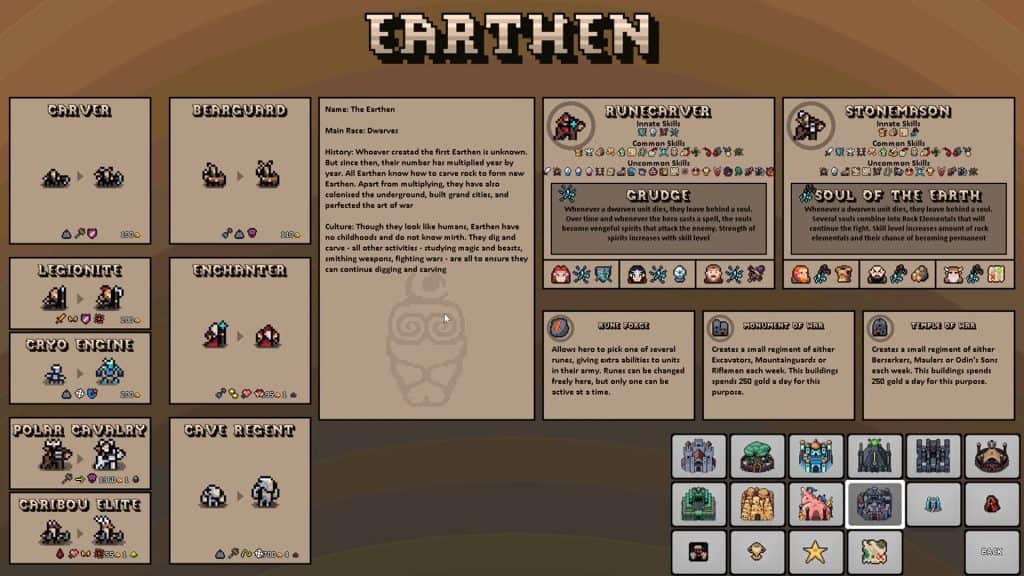 With abilities like Sturdy, Warden, and Leech Life, the troops of earthen armies are very difficult to kill.
This faction takes maximum advantage of its defensive archetype by letting its troops take a few hits and hit back even harder with retaliation. The Hoplite and Legonite units also boost their attack when at lower health.
Buildings like the mountain of war and temple of war give you some much-needed firepower with rare humanoid units that focus on offensive abilities.
Enclave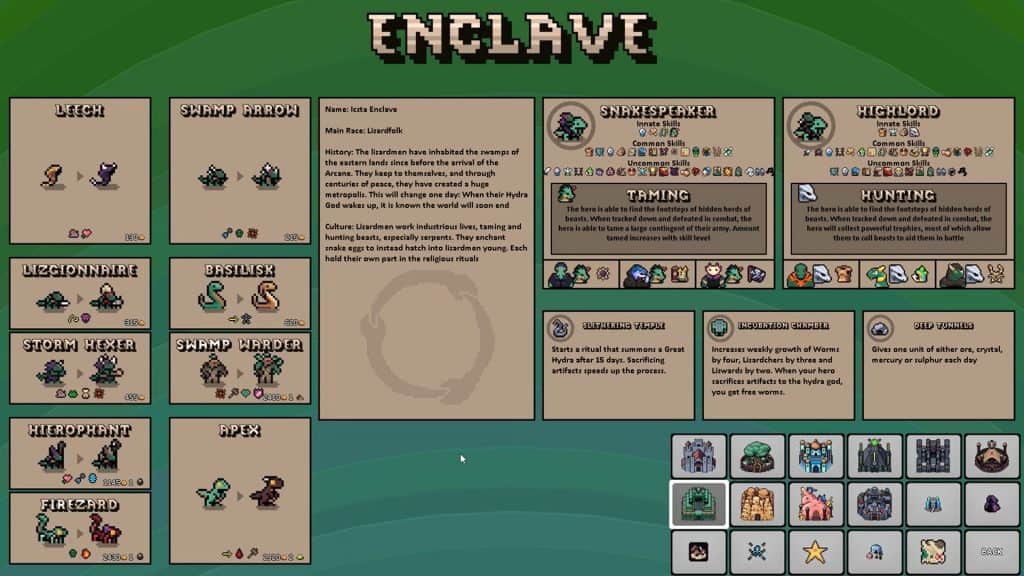 If you're looking for a faction that leans into its chaotic side, this might be the one for you.
Enclave balances its weaker army size with incredibly powerful units like the 'Apex' along with hero skills that only add to its randomness.
The unique buildings of this faction play a huge role in covering up its weak points. Building an incubation chamber can increase the degree to which your army grows while the Slithering temple periodically summons a Hydra to aid you in your journey.
The 'Taming' and 'Hunting' Skills possessed by heroes let you encounter hidden herds of enemies that you can recruit to fight on your journey.
Conclusion
Each faction comes with its advantages and unique playstyle. While not every faction may suit your taste, you can use this Heros Hour factions guide to find the one that works best for you.
Feel free to check out our comprehensive Heros Hour Beginners guide to learn everything you need to start off and become proficient at the game.
Did you find this article helpful? Which Hero's hour faction do you play the most? Let us know in the moment section below.