Compared to the amount of customizability provided in-game, the options in the settings menu of The Elder Scrolls V: Skyrim can feel awfully restrictive. Fortunately, files like Skyrim.ini can easily be used by players to access more advanced options to give you the best Skyrim experience for your taste.
Despite its immense popularity, a lot of players new to editing Skyrim.ini have trouble finding it, especially since it may not be in the same location for everybody. This guide should give you a Skyrim.ini location regardless of these differing situations.
Ever since Skyrim was released in 2011, players have been using its ini files to alter settings that the game does not directly let you. This was continued with Skyrim Special Edition in 2016 and now with Skyrim's Anniversary edition in 2021.
SkyrimPrefs.ini and Skyrim.ini file location
Make sure to launch the game at least once in order for Skyrim's ini files to exist.
The location of these ini files after being created is highly dependent on whether or not you use a mod loader. Mod loaders like Mod Organizer tend to change the original location of these files.
You can find these files by using the instructions given below.
Default Location
If you do not use mod loaders and have launched the game at least once, your ini files should be in the following location in your file explorer:
Documents> My games> Skyrim.
Once you open the Skyrim folder, you should find the Skyrim and SkyrimPrefs ini files. You will also see a folder with the game's save files in this location if you have any.
Location if you use Mod Organizer
If you're using Mod Organizer 2, you should be able to find Skyrim's ini files in it as mod organizer stores these files along with ones necessary for its functions in its own profile folder.
Clicking tools in MO2 should give you the option to open an ini editor. You can use this option to easily access the Skyrim ini files.
What is an ini file?
Ini files are basically configuration files that you can use to edit various settings that are not available through the game.
An ini file can be opened like a text file through notepad and have its values edited. Editing the numerical values in the INI file turn can turn setting on and off, change the lighting of an environment, and much more.
INI files are only recognized as read-only files so you will need to turn them back into these after altering them.
Be sure to make a copy of your ini files before you edit them as the alterations you make to them could easily mess up your game.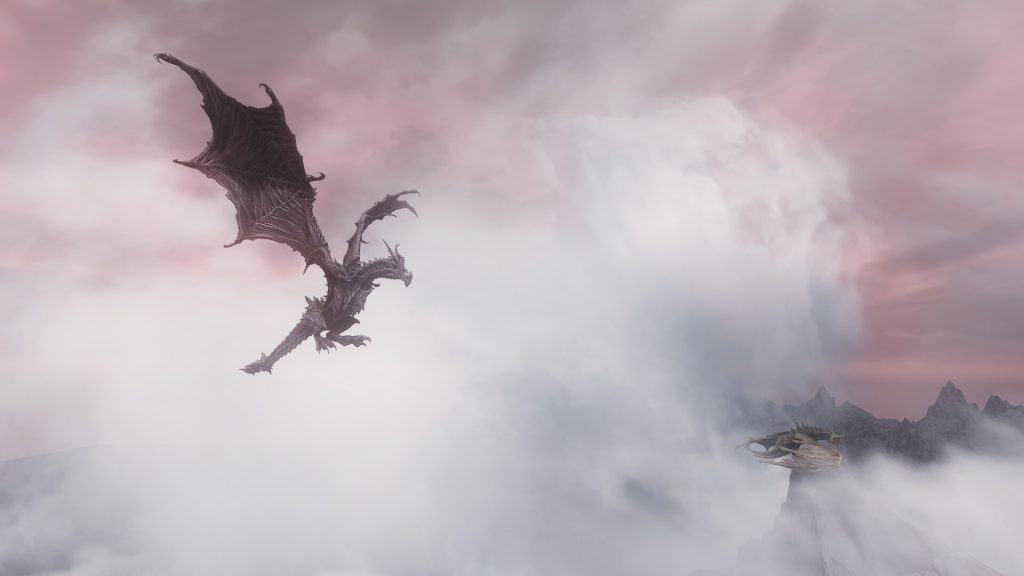 Functions of INI files
INI files open up opportunities for customization to your gameplay that would be restricted if you only used your game settings.
Both of the following INI files are divided into various sections. Each of these sections has its own group of settings that can alter its respective aspects of the game.
Entries that do not exist in the text format of the file can be manually entered and then altered as long as they are valid entries.
Skyrim.ini
Skyrim.ini is believed to be a master ini file by some players as it covers aspects of Skyrim's gameplay that cannot be changed through regular means.
You can use the entries of this file to alter elements of various attacks made by your character in the game. You can change the degree to which arrow shots will tilt mid-air and even decide how far spells can go before they can no longer affect a target.
These ini settings can also be used to affect the speed of animations in the game. Depending on the entries you choose to adjust, you can change how you open and close books, climb on and off your horse, Switch between first and third-person views, and more.
Skyrim ini also plays a vital role in turning Vsync on and off in Skyrim and Skyrim Special Edition. You can find more details about this in our guide to Vsync for Skyrim.
Skyrimprefs.ini
While Skyrim.ini includes settings directly affecting the gameplay that cannot be accessed in other ways, SkyrimPrefs.ini deals with settings like audio, graphics, and more that can be controlled through the game. However, it gives you a much more advanced version of them, letting you change a lot more than you could through the game.
SkyrimPrefs gives access to a range of settings from something as basic as the difficulty level to advanced graphics options that affect patches like ENB. It even lets you control the distance from which objects render and the degree to which the grass tilts. (At the price of a heavier load on your PC).
In addition to all the changes it lets you make to graphic resolutions, SkyrimPrefs.ini is also responsible for smaller UI elements like the presence of a compass and other little details.
Conclusion
Contrary to popular beliefs, Skyrim's ini files are generally not found in the game's main folder. The locations of the files will differ depending on whether or not you use mod organizers. Either way, you can use the instructions given above to find them and make the adjustments you need to.
Read our ultimate guide of The 40+ Best Skyrim Mods for ways to make your gameplay more interesting.
Did you find this guide helpful? How do you intend to use Skyrim's ini files? Let us know in the comment section below.