Finding save locations for Skyrim and Skyrim Special Edition can be annoying as they are not present in the folders in the program files. This Skyrim saves location guide should help you find the hidden files that hold Skyrim's saved games. It will also teach you to transfer and delete save files even if you play Skyrim through the steam library.
Skyrim was released in 2011 followed by a special edition in 2016 and an anniversary edition in 2021. Through all this time, finding, transferring, and deleting saves can still be a difficult task for a lot of people during their first time.
Save Files Location for Skyrim LE and SE
Skyrim save files can be found in the game could in the 'My Games' folder in Documents. You can open your file explorer to find the Documents folder and then follow this path:
Documents> My Games> Skyrim( Or Skyrim Special edition)> Saves.
The saves folder will have all your save files named as save[Character Name, Location]. Make sure to not touch the ini file in the Skyrim folder by mistake.
Now that you found the files, you can copy them or delete saves files if you wish to. Make sure to make copies of them in another folder in case you intend to alter them.
Consider reading our guide on differences between Skyrim SE vs LE to figure out which version you should get.
How to Transfer Saves
The save files you intend to transfer might always be backed up onto the steam cloud so you can use these save files in case you wish to continue your Skyrim journey on a different PC. You can use the following steps to transfer saves for Skyrim.
Use the location (Documents>My Games> Skyrim>saves) to find the save files.
Open the saves folder and copy the save files you need.
Paste them into an external storage device (Hard drive, pen drive, etc,) and copy them to the exact location on the PC where you want to run them.
Once you paste the files into the Skyrim game folder you want to run them in, run the game and try to load them. If the saves do not display the names, hover over them and they should appear on the top right of the screen.
Note: Transferring saved files can often be a lot more complicated if Skyrim had been modded. The more heavily modded a save file is, the more likely it is to cause problems after being transferred. It is best to be overly cautious while transferring modded game saves.
If you are looking for Skyrim Mods guides, consider these options below: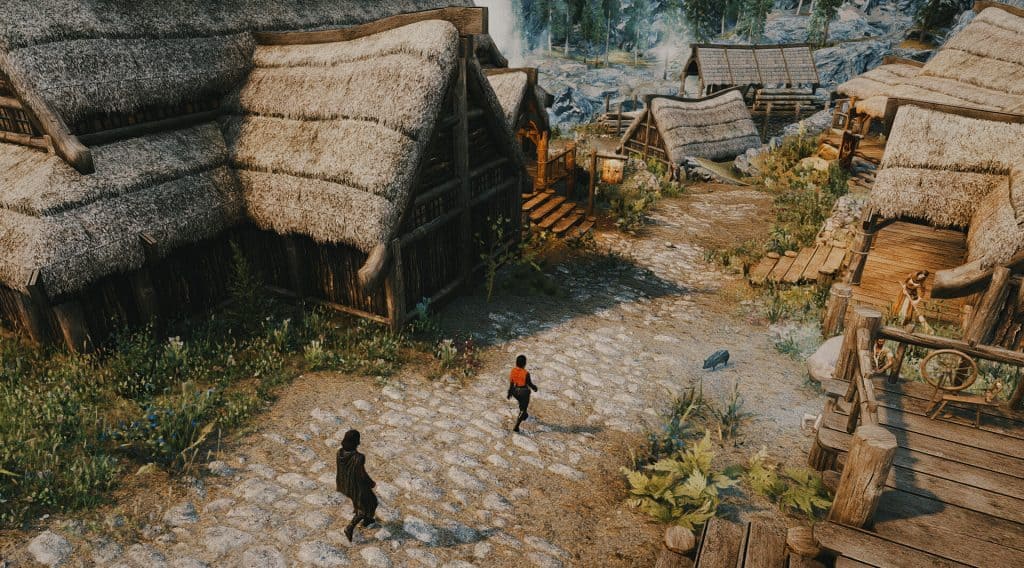 Delete Skyrim Saves Location
Deleting save files seems fairly simple. However, running the game through steam complicates the process a little bit due to the fact that your save states are saved in the cloud.
The following steps will help you delete save states for Skyrim and Skyrim special edition:
Go to the saves folder (Documents>My Games> Skyrim>saves)
Delete the files you no longer need.
If you use steam, you first need to go to Elder scrolls V: Skyrim> Properties> Updates and disable Steam cloud synchronization so it doesn't get downloaded again.
As mentioned earlier, makes copies of them in case you need them later.
Did you find this guide helpful? Let us know in the comment section below.