While Skyrim Special Edition comes with an inbuilt survival mode, using it hardly does much more than making the experience more challenging. In order to make Skyrim Special Edition feel like a survival adventure, mods like Frostfall and Campfire add new elements of crafting and camping to the game.
The Skyrim SE Campfire mod guide should help you understand what Campfire adds to the game, how you can install it, and how you can get started with it.
Ever since the 2016 release of The Elder Scrolls V: Skyrim Special Edition, mod developers have released an abundance of mods that have kept the game alive through these years. A large chunk of these is made up of survival mods. These mods add new challenges to the game that make it feel much more like newer survival games released today.
About Campfire for Skyrim SE
The Campfire – Complete Camping System mod for Skyrim SE adds a robust set of features to the game that truly emulates the feeling of a survival game.
This Stand-alone camping mod lets you collect resources from your environment that you can later use to craft equipment for your sustenance.
Since Campfire was built from the camping system of Frostfall, it brings along multiple survival elements from it that Frostfall is known for. This makes Campfire a perfect mod for anybody who wants to experience a survival game without going through the harsh consequences that come with it.
The mod not only adds a ton of new camping equipment to the game but also leaves room for a ton of expansion. The mod encourages developers to add more items to the game by functioning as a modder's framework for future projects.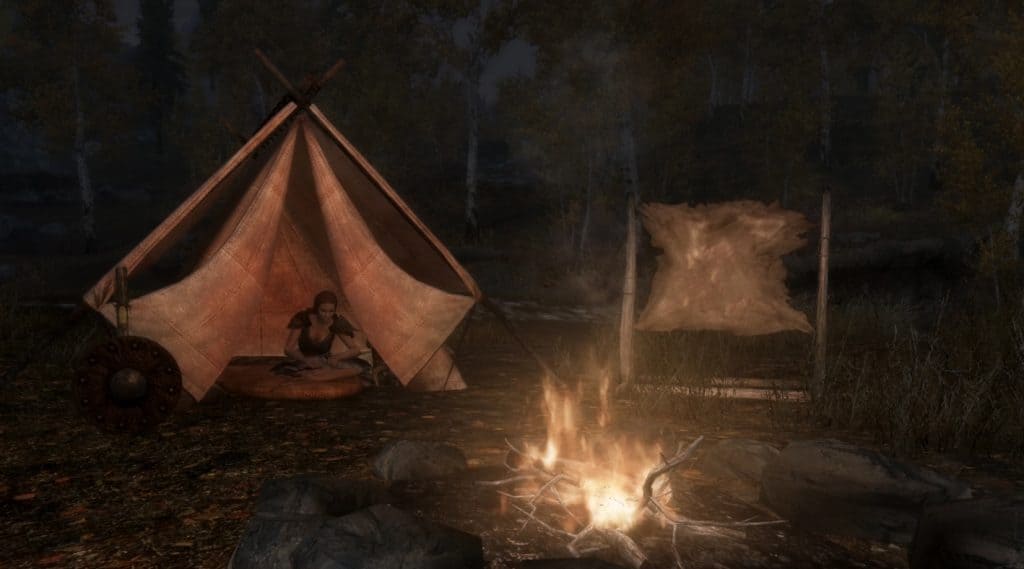 Changes made by the Campfire Mod
The Campfire mod for Skyrim SE adds a ton of new resources to the game that can be acquired through various means. They can then be used to craft your own camping equipment easily.
You can also buy camping equipment instead of crafting it for an easier time, especially if you have the gold to spare.
The new Skill system added by the mod lets you improve your camping skills to gather resources more efficiently and build better campsites. You can improve your ability to build hunting and gathering equipment that will only help you in your survival situation. Bigger campsites lets you perform other functions like heating a cooking pot.
The mod adds new menus that let you gather resources from your surroundings without actually having to hunt for them. The items added by this mod are stored in the new campfire added backpacks. These backpacks give you a fun camper look by displaying equipment such as your bed roll.
How to Install Campfire for Skyrim SE
Installing Campfire for Skyrim is not too different from installing regular mods through mod managers. If you are used to modding Skyrim, you should have an easy time here.
'Campfire – Complete Camping System' requires SKSE for its features and SKyUI for the use of its new Menus, so make sure to have them installed before you use this mod. This is a hard requirement and should not be skipped.
Download any of the major mod managers like Mod Organizer or Nexus Mod Manager, if you haven't already, and use it to install the latest version of Campfire – Complete Camping System. Make sure that you do not have any mods that interfere with this one.
Once you have completed installing Campfire, you can start your game begin gathering resources for your campsite.
Using Campfire – Complete Camping System
You can start your survival journey by looking for resources you can gather to craft new camping equipment for yourself. Deadwood and Branches are the two most important resources you will need.
In order to collect these resources, you will first need to stand around a few trees, open the magic menu, select 'Gather resources' and use it. While this should directly work for the branches, you will need a woodcutter's axe or a stone hatchet to gather deadwood.
You can use these resources to craft camping equipment and build campsites for yourself on any flat surface. You can have a campfire of a size you choose to keep yourself warm or just grill some meat. You can also build tents, craft a portable enchanting kit and do much more.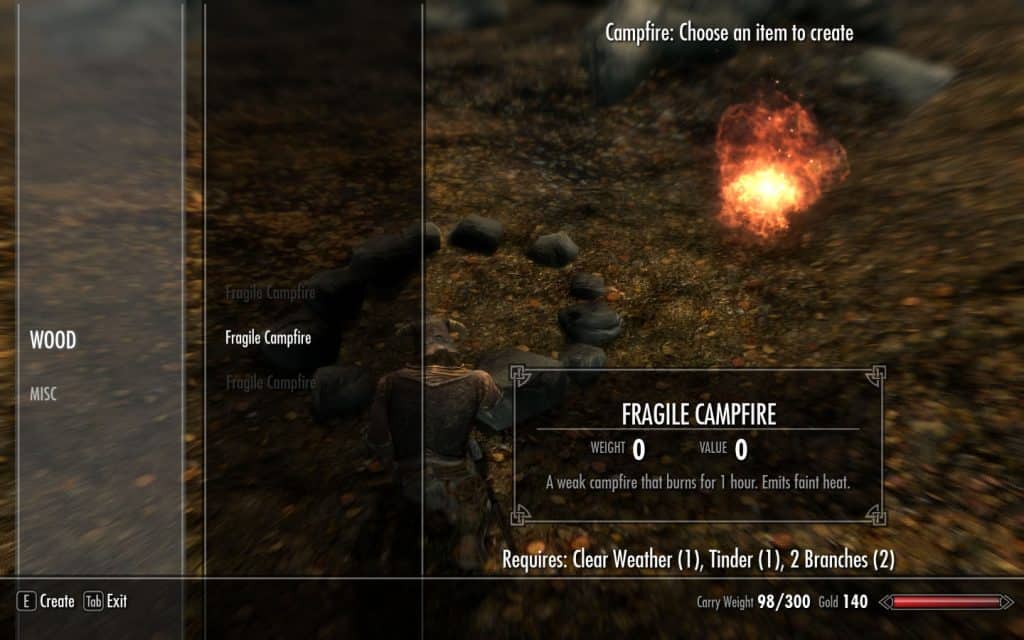 Skyrim Campfire and Frostfall
Frostfall and Campfire are deeply interconnected. While you can use Campfire as a standalone mod, adding Frostfall to the mix and planning for the cold can add a new level of complexity to the game.
While Frostfall is not for everybody, it is certainly worth trying out.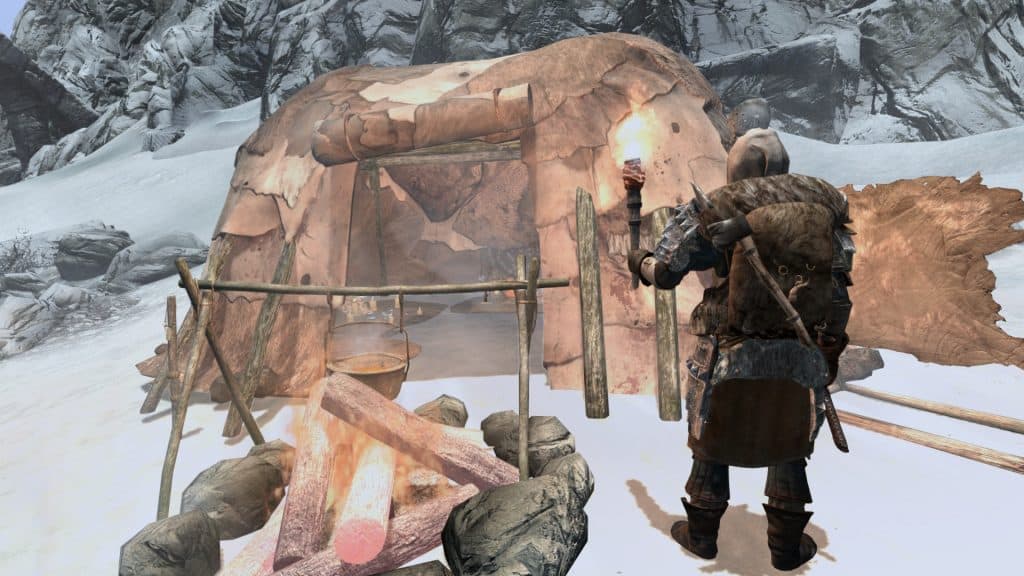 Conclusion
The Campfire patch for Skyrim SE is one of the most feature-rich survival mods available for the game right now. It adds a bunch of equipment to the game that can be used for your in-game camping adventures.
The mod not only functions as a standalone addition to the game but also as a framework that you can use to add new equipment to the game with as your own mod. You can even use other mods built with this one as its foundation to further enrich your campfire experience.
If you are still on the hunt for more helpful Skyrim mods, consider reading our lists of Best Skyrim Mods, Skyrim polygamy mods, Skyrim unarmed mods, Skyrim vampire mods, and crafting mods.
Did you find this guide helpful? What other mods do you use with Campfire? Let us know in the comment section below.